AHAlife is one of my favorite websites to peruse for unique and/or hard-to-find treasures. Contrary to what you may believe, it isn't a sample sale site like Gilt or HauteLook — it is something very very different.  The site is curated by an impressive list of industry insiders with trendsetters and tastemakers in mind.
Looking for the next hot pair of Zara heels or the next Vita Fede bracelet that will hit the fashion blogging world by storm? Looking for the products everyone will be wearing/blogging about/getting tired of?
You won't find them on AHAlife.
What you likely will discover is something unique… and something that could easily become the next big thing. But you'll have it before it was cool.
The items on the site range in price from the absolutely affordable to the not-so-much, but my personal lust list is always long and drool-worthy.
Here are a few of my latest loves.
EVOUNI Touch Screen Jelly Clutch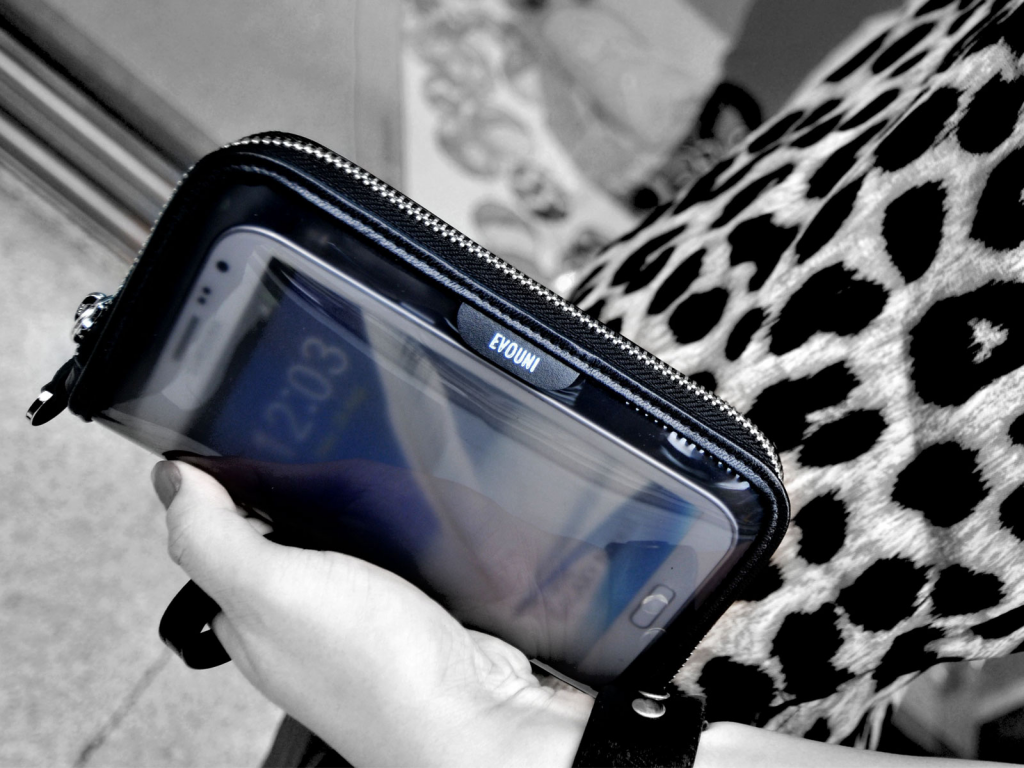 EVOUNI Touch Screen Jelly Clutch ($75)
This is my latest purchase from AHAlife and it is absolutely genius. How many times of you found yourself digging through your clutch or bag so you could return a text? If you are anything like me, chances are your iphone — without fail — magically makes its way to the very bottom of your bag. Every time.
This genuine leather clutch has a built in touch screen so you don't have to do any digging!
Functional, cute and affordable.
Win.
Rosette Shawl necklace by Louise Manna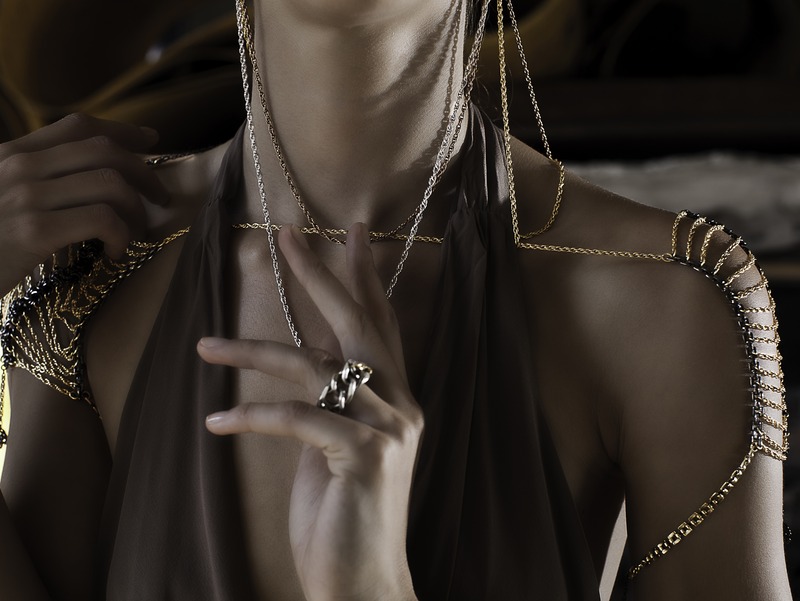 If you read this post you already know that I have a thing for edgy jewelry. This Rosette Shawl necklace by Louise Manna (who may be my new favorite jewelry designer) is absolutely breathtaking. The best part? You can also wear it as a front and back necklace or statement front necklace piece.
Personally, I love the shawl look. It's delicate, sophisticated and sexy all at the same time.
Cascade 4-Piece Ring by Louise Manna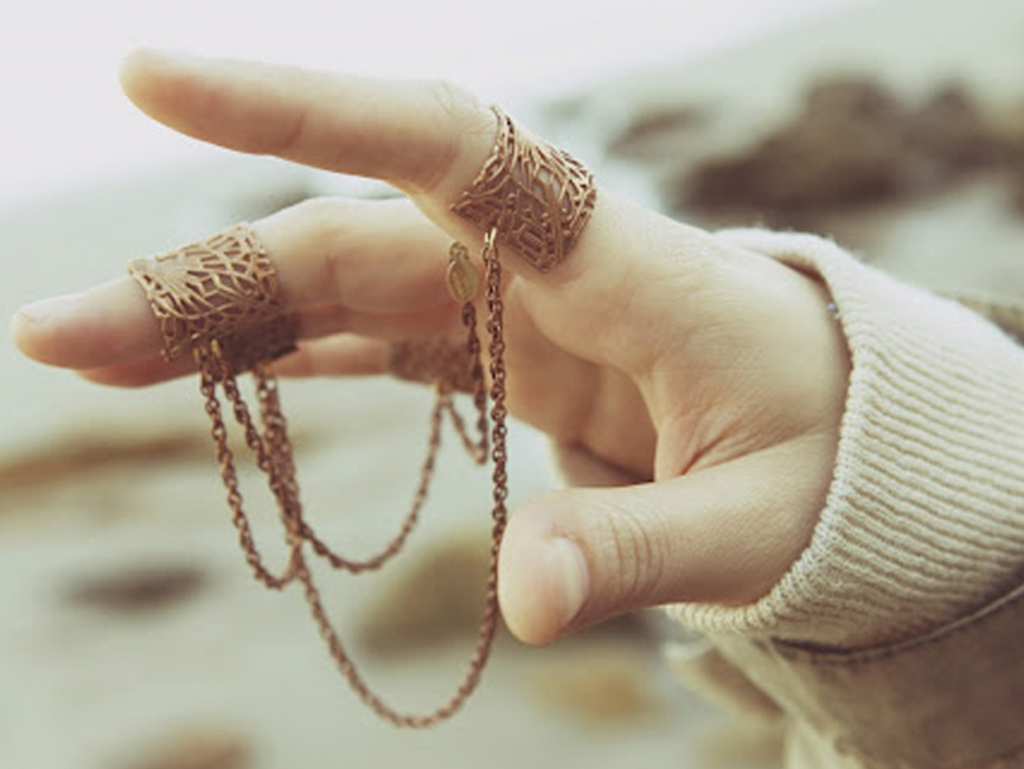 I love rings. They have always been my signature jewelry item.
There are a lot of multi-finger ring sets out there right now but the draping and beautiful metalwork on this piece makes it unique.
It isn't something I would wear every day but when you want to make a statement with your fingers, this will do it!
Python & Stingray Clutch by Khirma Eliazov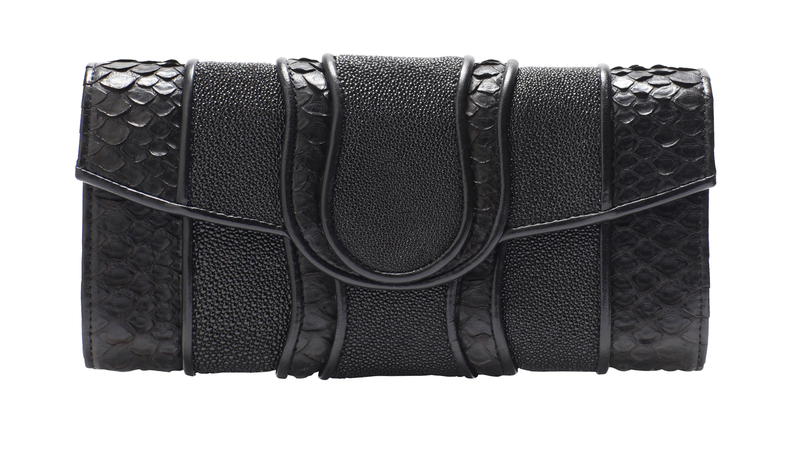 I have been seeing more and more clutches designed by Khirma Eliazov on "hot list" round-ups lately and with good reason.  Her designs are made from the finest materials and are beautifully constructed. The gorgeous texture in this particular clutch comes from layers of shagreen and snakeskin piped in buttery soft leather.
Just stunning.
Magic Cube Laser keyboard by Celluon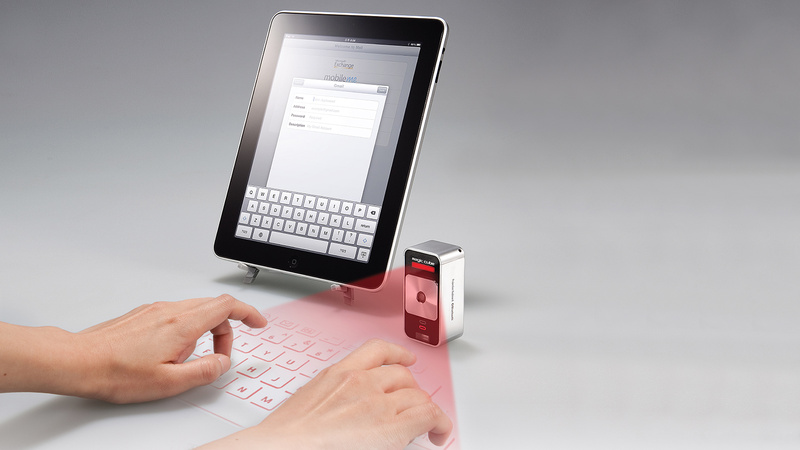 Magic Cube laser keyboard ($150)
I have always stayed away from iPad cases with built in keyboards and I don't have a separate bluetooth keyboard for my iPad. I have never been a fan of the way the cases look and I don't want the hassle of carrying a separate keyboard around with me.
Enter the Magic Cube.
This little gizmo looks amazing.
It connects wirelessly to iPhone, iPad, or Android devices and projects a full-size laser keyboard image that you can type on.  Plus, it's tiny.
Does anyone own this?  Is it as awesome as it seems?
Bluetooth Pendant Necklace by Novero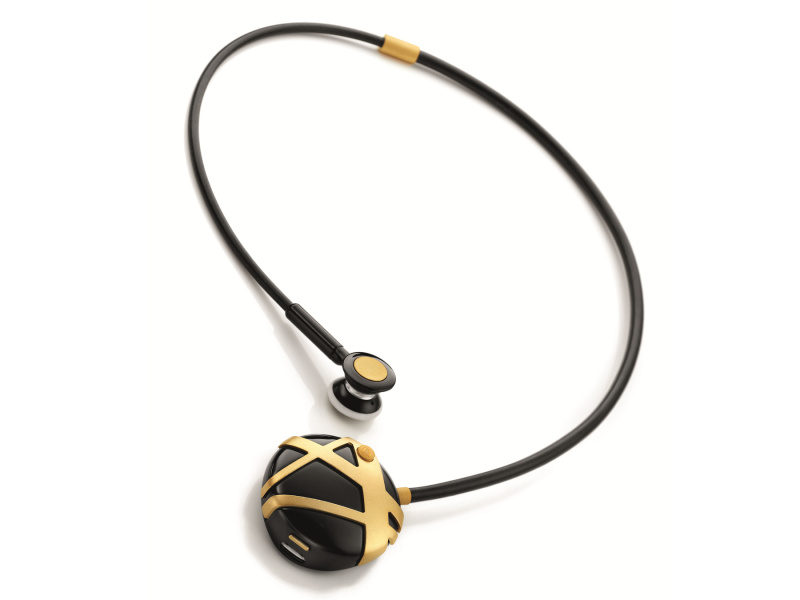 Bluetooth Pendent Necklace ($329)
I hate wearing a bluetooth headset but sometimes it is a necessity in my line of work.
This beauty looks more like a statement necklace than a bluetooth device.
Is it pricey? A bit. But I love the design.
SACHAJUAN Ocean Mist Spray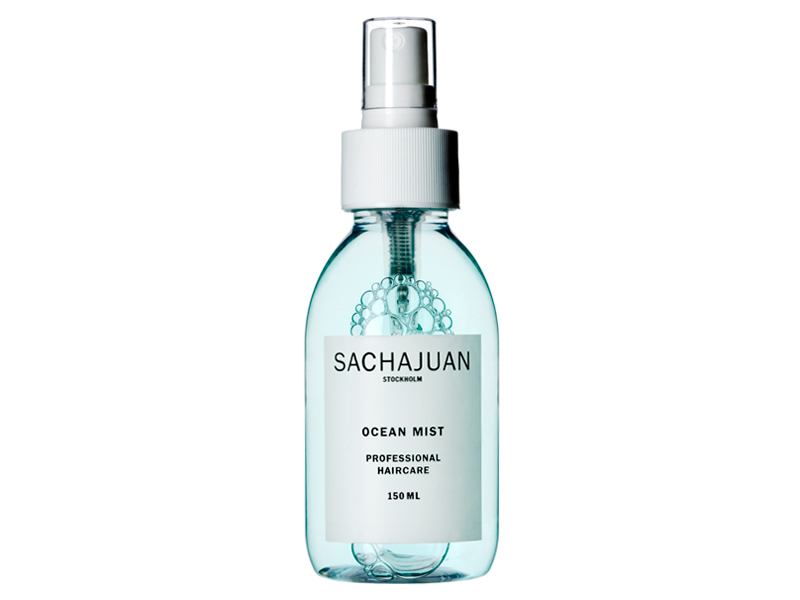 I have tried just about every "beach spray" out there and have yet to find one that can truly replicate beachy waves (though Beach Day by UNITE comes close). I am intrigued by the OCEAN MIST from SACHAJUAN but haven't tried this line of products yet. Anyone have any input into the quality? What do you use for beachy waves?
AHAlife: Sign-up deets
If you aren't already a member, here is some information for you:
If you sign-up for AHAlife by August 31st you automatically quality for 20% off your first purchase and free shipping for order of $100+.  Once you are a "member" (there is no monthly fee associated with this site) you will receive 5% off each purchase.
Bonus: if you go through ebates (sign-up through my referal link here) you'll get an extra 5% cashback.
What are you currently coveting?
Disclosure: this is NOT a sponsored post.  I just love this site and wanted to share my latest obsessions with you all!
 All images courtesy of AHAlife