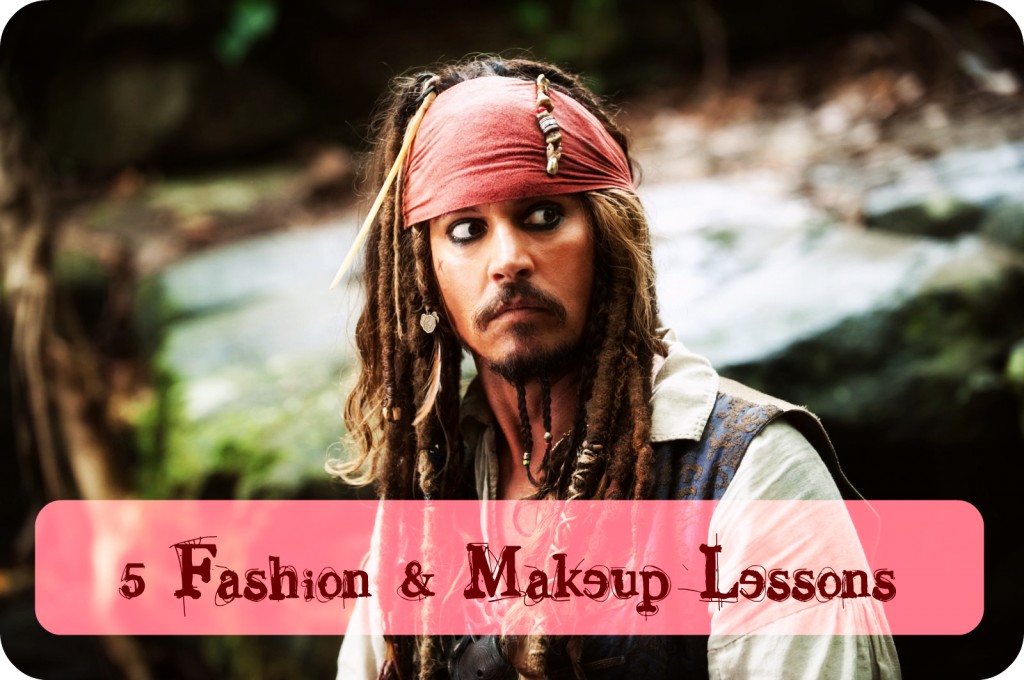 The first time I laid eyes on Captain Jack Sparrow I was completely flabbergasted. I didn't know what to think.
The dreadlocks. The gold teeth. The goatee. The leather hat. The hair trinkets. The coat. The eye makeup. The individual elements looked… ridiculous. (If you need a reminder, check this out.)
Yet, somehow… he was strangely confident. He had a certain swagger. A sexiness.
He was untouchable. He was perfect.
This came up during a conversation a friend and I were having about the upcoming release of Pirates of the Caribbean: On Stranger Tides. She couldn't believe it when I suggested that Jack was – in a way – a fashion icon.
She doesn't think so.
I would argue he is because he has taught us some important lessons about style, including the following:

1. Everyone should own a kohl eye pencil
Jack took a page out of Cleopatra's book and lined his eyes in black kohl. Look at how those babies POP. So sexy. If it's good enough for the two of them, it's good enough for me! (My recommendation: MAC eye kohl)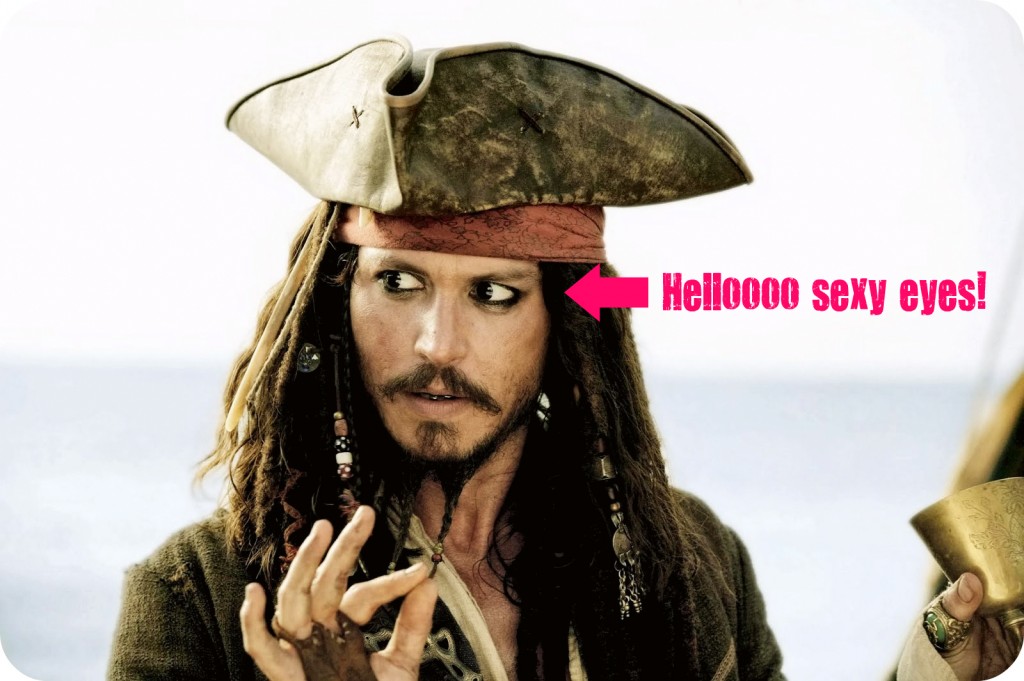 2. Think outside the box.
Find new ways to use the pieces you have lying around your closet. Here, Jack wears one scarf as a headband and another as a belt/sash. Why not try belting a scarf? Or using it as a turban? If you are a DIYer, consider refashioning some of the things you are bored with – it's the easiest way to breathe life into them!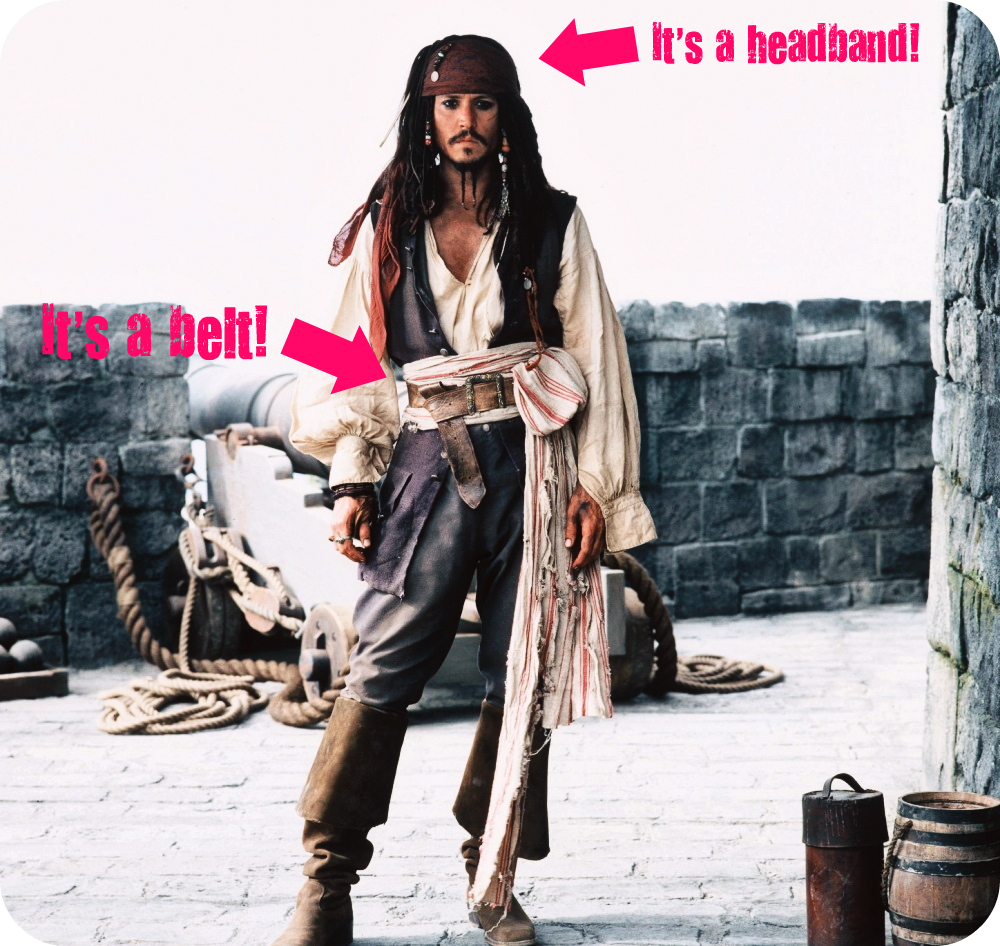 3. What's better than 1 ring? 2 rings! 3 rings! 4 rings!
It's no secret that I am addicted to rings (I can't wait to share my latest purchase with you all when I receive it!). Jack is a man after my own heart with the bling he wears. You don't have to limit yourself to 1 or 2 statement rings. The more the merrier! But if you go big on the rings, you will probably want to keep your other jewelry minimal.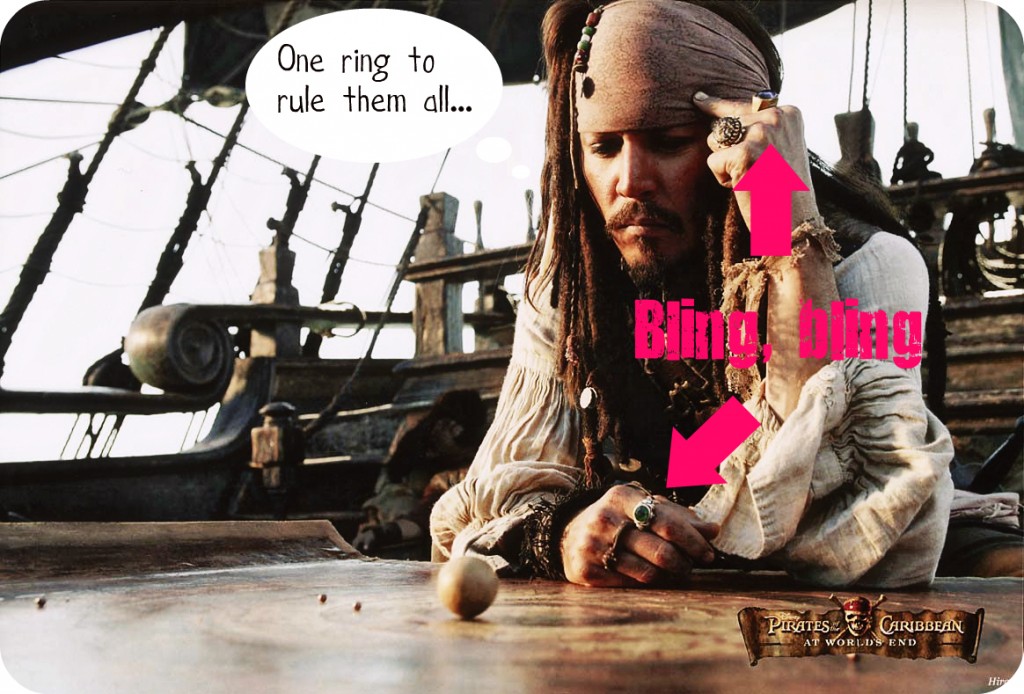 4. Your hair is what truly completes your look.
One of the beliefs my mother instilled in me at a young age is that your hair is your most important accessory. It doesn't matter if you are rocking the latest Tom Ford design and some killer Louboutin's – if your hair is a wreck it will ruin the whole look. Jack is very proud of his rockstar dreadlocks and adds some extra glam with his hair trinkets. Figure out what works for you and make your hair the most important part of your look. You do wear it every day, don't you?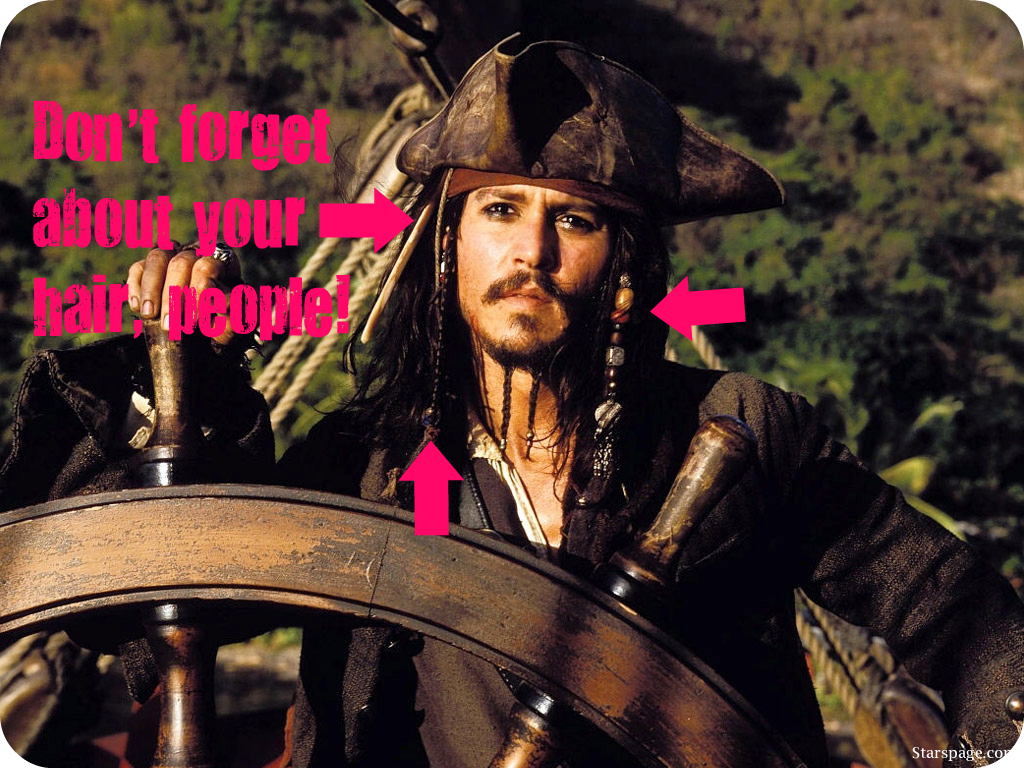 5. Romantic + Edgy = WIN!
When you find a particular style that suits you and your personality, work it. Jack has mastered romantic rockstar chic. He masterfully melds silks and lace with leather, fur, mega-bling and dreads. And his makeup? There are no words. Truly.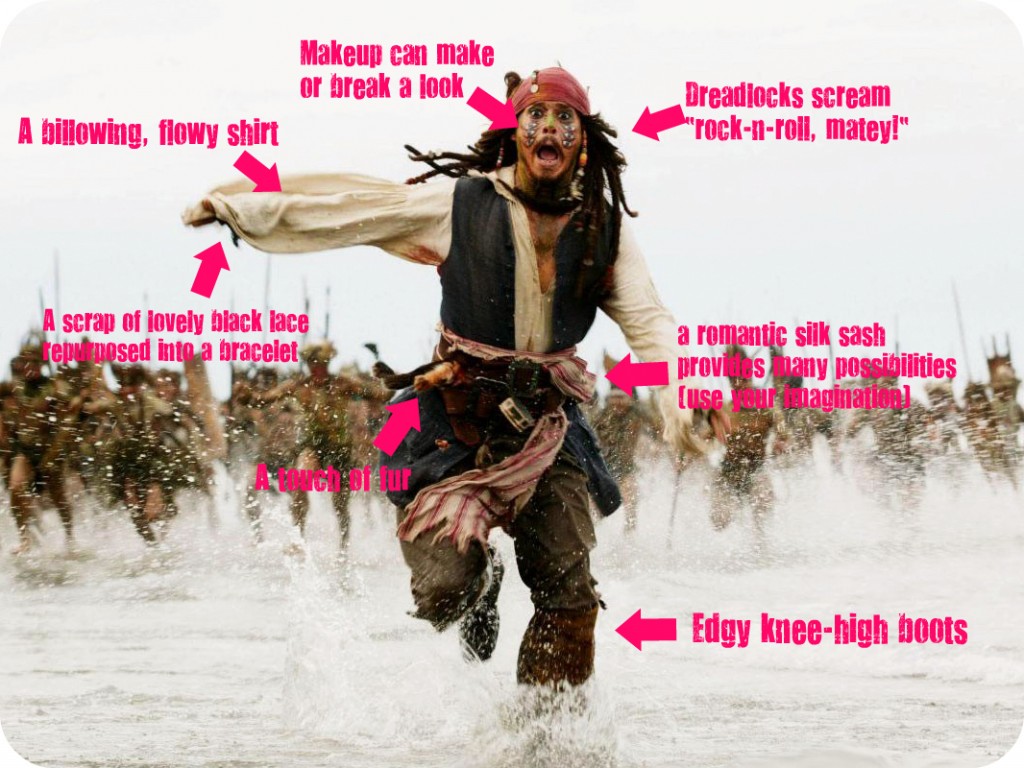 Conclusion
"I regret nothing, ever." – Captain Jack Sparrow
I love Captain Jack Sparrow's no apologies approach to fashion. He is his own man and owns his look. All others are cheap imitations.
So, what do you think? Jack Sparrow – fashion icon or no?
What surprising individual has taught you some lessons about style?
All images courtesy of Google Images and used for entertainment purposes only. The character of Jack Sparrow is the property of Disney.