It's been some time since I had a guest blogger on Beautifully Invisible and I am delighted to feature Jamillah of made-to-travel today. What can I say about Jamillah? She is a-m-a-z-i-n-g. Not only is she beautiful and stylish (definite pluses for a fashion blogger, no?), she is also very community-centric. She makes a concerted effort to engage with her readers, share the work of others, and contribute in whatever way she can. She doesn't just sit back and blog about herself. Quite the contrary – she does whatever she can to help, educate, and engage others.

Her blog tagline is very telling: "look for joy… always."  Well, if you are looking for joy, you are sure to find it at made-to-travel. The fashion blogosphere became a better place the day she joined it!
Now, I bring you… Jamillah.
**********
The term "savage blogger" was first coined by Vahni of Grit and Glamour and refers to a numbers driven blogger who, obsessed with the amount of followers they have, lets interaction and community fall by the wayside.  Many new bloggers fall into the trap of this numbers game and develop the "Follow Back" mentality that we see so much of today.  Earlier this year, Ashe Mischief of Dramatis Personae wrote a post offering advice on how to deal with the "Follow My Blog!" messages and comments you probably receive.  This concept of the "savage blogger", combined with the "Follow My Blog!" spam-craze, was the catalyst for this article.
As a new blogger I feel it's really easy to fall into the "follow me, I'll follow back" culture.  Subscription numbers seem to be an easy way to gauge the success of your blog.  But I think it's important to take a step back and assess how your followers are reflected via interaction and make every effort to not be a savage blogger.
Let's start with a few simple questions:
Are your followers interactive?
Are they leaving meaningful comments?
Are they supporting you and are you supporting them?
If they are, AWESOME!  But if they're not, here are some alternatives to the "Follow Back" method to grow your blog:
TWEET for goodness sake!
If you are not already on Twitter please get on twitter, right this instant. I have a tendency to comment stalk as a reader and I can stalk you better on twitter.
I was really not going to join Twitter at all, but after I was finally convinced I felt so ridiculous that I hadn't been on it from jump street. Learn it!  Join it!  And be active on it! REALLY it's a life changer.
Here are some tips to help you best use twitter:
Retweet tweets from your favorite blogs.
Tweet discounts and giveaways from blogs and sites.
Tweet things that you want to share and that could be helpful for others.
Tweet "thank you's" for lovely comments.
Set some Twitter goals for yourself.
Check out this IFB post for pointers on how to meet those goals.
Add sharing buttons to your posts!
How can readers share your awesome blog if you have no sharing buttons?!  I often want to tweet posts only to find there are no sharing buttons and this bums me out!
Be active on IFB in a thoughtful way!
Independent Fashion Bloggers (IFB) is an amazing resource because there are tons of people active in the community that are just like you who want to know you and help you.  I really get so much out of the discussions that can be found throughout the site.  Join one! Start one!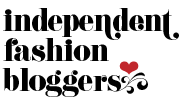 Make an effort to read the blog improvement articles that are published weekly.  You can start with these two:
Don't forget to submit your best posts to Links à la Mode and Links à la Mode, Tech edition.
Contribute to Blog Events and Memes!
Make an effort to find blogging events that you can contribute to.
One of my favorites is from Beautifully Invisible herself.  B has a great feature called "Link Love with a Twist" where you can submit posts from your favorite blogs. With each submission that makes the list both the submitter (that's you) and their favorite blog and post are featured. What a wonderful way to show support for your favorite blogs! (Editor Note: Thanks, Jamillah!)
Some great fashion memes to consider include:
These are all great fashion memes you can participate in. (Editor note: make sure you establish your own voice and post unique content outside of these events. You don't want all of your blog posts to be comprised of memes!)
Blogging events will allow you to discover and connect with other blogs; they help build traffic, interaction and community. Find one you like and join!
Be supportive and DO NOT GET DISCOURAGED!
I really love blogs. It's why I started blogging and it's easy for me to be excited to share and comment and I hope you are the same.
Be supportive!
Comment!
Share!
Email!
Tweet!
Retweet!
Do not get discouraged if those blogs haven't left a comment on your site or responded. It doesn't mean they haven't checked you out and it doesn't mean they don't appreciate your support. It just means they didn't comment and that's NOT a big deal.
If you've been blogging for at least a couple of months you probably have noticed how hard it is to keep up with your already long blog roll, new blogs and all your comments.  This is the same for all bloggers.  Don't be discouraged if fellow bloggers are not quickly responsive, just keep being supportive!
Most importantly: keep being yourself!!!
Good content is key. Have integrity in your content and stay true to who you are.  Having enthusiasm and loving your own posts shows.
Be patient. Stellar blogs are not grown over night. They are made with WORK and TIME.
MOST IMPORTANTLY: BE GENUINE! Being yourself in this blogosphere is what will really make people want to know you and ultimately read your blog.
These are just some tips that have helped me surround myself in a blogging community I really adore.
If you have more secrets please, please share below!!!
**********
If you haven't already done so, check out Jamillah's blog here: made-to-travel
and follow her via Bloglovin' here and twitter here.