Imagine if the classic style of Audrey Hepburn merged with the edginess that is synonymous with Carine Roitfeld and Victoria Beckham.  It's rock chick meets Paris chic: an edgy style that looks fabulous.  Add a dash of Rihanna and then you have… me.
Although I have (for now) chosen to remain mostly anonymous on this blog, both my voice and style are known to my readers.  They follow my thoughts on the fashion industry, styles, photography, and just comments on life in general. I love being able to introduce my followers to new designers (jewelry and clothing!), photographers and products and am always on the look-out for the next best thing. If something sparks my interest I waste no time in spreading the word!
Me personally?  I am a 37-year old non-profit fundraiser by day, fashion and style blogger by night.  I live for the latest GUCCI but also love shopping at Ann Taylor. Yves Saint Laurent Arty rings?  I am addicted.  I am your average American size 14 fashionista… who is fiercely proud of her Serbian heritage.  I believe Tom Ford is the God of Style.  So much so that I started a second blog in 2011 dedicated to his greatness.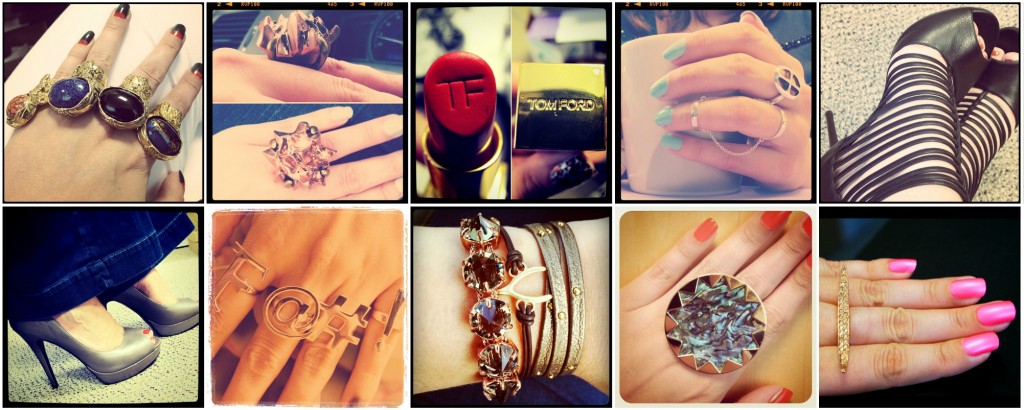 A few of my favorite things…
I love to travel.  I love strawberries and hate licorice.  I am a film fanatic, music lover, and avid concert/theater goer.  I am a nature lover and a shopaholic.   I love to look for beauty in places that often go unnoticed and am still a romantic at heart. I am a beauty product and sometimes TV (Mad Men! Game of Thrones! True Blood! Dexter! Homeland!) addict with a girl-crush on Christina Hendrick, Emma Stone and Kate Winslet.
I am me… complicated yet simple.
"Why the name Beautifully Invisible?" you ask?
The name came about for a number of reasons. First, I have a very unique name. Chances are, if you Google my name, you'll find me. Heck, if you were to Google my first name with some key words, you'd find me. So anonymous it is!
Second, let's talk about the fashion angle. When I started this process selecting a name was actually one of the toughest things for me. I wanted something that would reflect the content of the blog, but also reflect me, as a person. The name came to me one evening as I was exploring a few sample sale sites. It seemed like every time I clicked on a skirt, pair of jeans, or dress I was interested in, the sizes stopped at 10.
Me? I am a pretty consistent size 14.
At my smallest, I was a 9/10 and that was back in my college days. And I thought I was big back then.
Today I am confident in myself and who I am. Could I stand to lose some weight? Yes. But I regularly work out and eat healthy, and it isn't happening. I've grown to accept the 14 I am now. I know I am nice-looking, and being a size 14 doesn't take away from that. In fact, I am a curvy size 14, and I think that just adds to my looks if anything. If I lose weight down the road, I won't complain, but I am happy in the skin I am in.
Usually.

I haven't read this novel, but I love the title! 
Back to the title of this blog. So there I was, trying to spend my money on some gorgeous new clothes with no luck because of my measurements. The same thing has happened to me while checking out certain pieces on shopbop, net-a-porter, intermix and countless other sites.
The same thing happens when I walk into certain bricks and mortar stores (especially boutiques!).
I am out-sized of so much of the great, fashionable clothing I love. Too much of it, in fact.
To make matters worse, there are some great sites out there for plus-sized woman, but my measurements are generally too small for the items they sell.  Seriously?
So here I am, your average American size 14 wannabe-fashionista, and I can't wear half the things I love and lust over.
I am completely invisible.
How does that happen? Is this only my imagination?
I started doing some research online and came across a great Los Angeles Times piece by Emili Vesilind that addresses this very issue: "Fashion's Invisible Woman."
Turns out it's not my imagination after all.
This quote is from the LA Times piece:
"When Chanel designer Karl Lagerfeld, who spent most of his adult life battling a serious weight problem, created a capsule collection for H&M in 2004, the newly svelte designer was incensed that the retailer manufactured the collection in larger sizes. "What I designed was fashion for slender and slim people," he said. And in an interview in the March issue of Harper's Bazaar, he sniffed, "The body has to be impeccable . . . if it's not, buy small sizes and less food."
This, my friends, seems to be the philosophy that too many of the designers out there follow today. Even the designer love of my life, TOM FORD.
Yes, there are designers out there who DO have lines for us "bigger" girls.  But not enough.
Yes, there are non-high fashion brands I absolutely adore out there that sell size 14s. Like H&M and Ann Taylor Loft for instance. But make sure you buy what you want ASAP because that size 14 will be out of stock very quickly. I also love shopping at Nordstrom, but I am usually sized out of items in their high-fashion Savvy Department.
There are some great boutiques in the Cleveland-area as well, like Banyan Tree, but again, I am often sized out of clothing because the designer simply doesn't make the item in my size.
There are so many blogs out there that I admire, and blogger's whose style I admire, but sometimes I am too afraid to even try to buy from a new source because of the sheer possibility I will be disappointed.
So I stick to what I know works. And I have mile-long lists of things I want to buy but can't because I am invisible.
So, for now, I'll stick to spending the majority of my hard-earned cash on accessories and shoes! And I'll share my escapades with you on this blog!