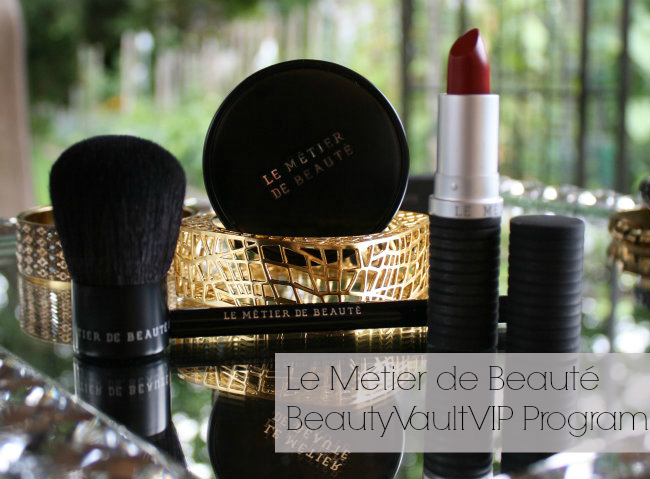 Anyone who knows about my TOM FORD obsession also knows I have a healthy supply of makeup that will last me ages—and let's not even mention all of those other brands that are still in my rotation. Let's just say I am not lacking when it comes to cosmetics and leave it that that.
While I do subscribe to a handful of monthly subscription services (including Birchbox and Glossybox) I have stayed away from all of the other cosmetic-focused subs out there simply because I do NOT need one more lippie. Or eyeshadow. Or blush. I have plenty, trust me.
Needless to say, the only way that a makeup subscription service could peak my interest at this point is if they offer something truly unique.
Enter the Le Métier de Beauté Beauty Vault VIP program.
If you've never tried Le Métier de Beauté products you are missing out.  The brand is know for it's superb quality and product performance.  This isn't a mid-level or even a high-end brand.  I classify a Le Métier de Beauté as a true luxury brand along the same lines as TOM FORD and the products carry a price tag that goes along with that classification.
So when I first heard about the Beauty Vault VIP program back in June I couldn't believe what they were offering.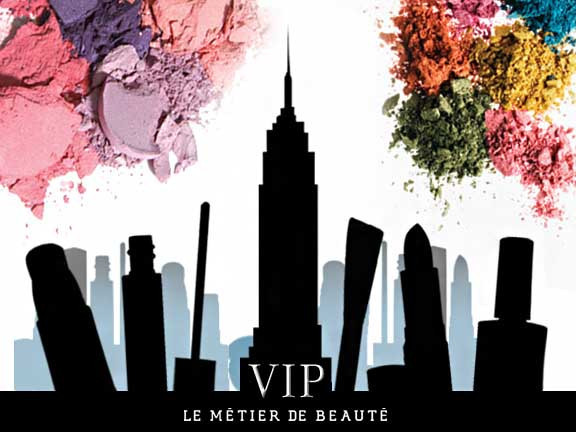 "For a one-time fee of $348 ($29 dollars a month, for 12 months), become a Beauty Vault VIP. At the beginning of each month, our Le Métier de Beauté experts will send you a carefully curated full-sized product or assortment of products shipped right to your door. As an added bonus, Vault VIP Subscription shipping is free. All you have to do is sign up, receive your complimentary gift, and anticipate 12 exciting months of LMdB surprises. Savor the perks of insider access, and start discovering beauty with us.

One full-sized item or an assortment of items shipped to you at the beginning of every month
Curated mix of our favorite Color, Skincare, Pre-release Sneak Peaks, Lab Previews, and Vault Exclusives
Receive a bonus gift just for signing up
Shipping is free"
I know, I know… you are probably think to yourself "$348!?!?  Upfront?!?!?"  No <insert expletive here> way!"
Umm.
Way.
Did I mention that Le Métier de Beauté is a pricey line?  This sub comes out to $29 a month for at least 1 full size product a month. And most products retail significantly higher than $29.
Even though I tried to talk myself out of signing up (I mean, really—I don't NEED any more products!)—even though I tried to convince myself it was a horribly bad idea— I couldn't resist.
I bit the bullet and signed-up in July with the understanding that this subscription would pay for itself within a couple of months, no problem.
Let's take a look at the first delivery, shall we?
The Unboxing
True to the company's word, the first box shipped via UPS on August 1st and was in my hands by August 5th. Whenever you get a new subscription like this the first impression is always key. This did not disappoint. It was securely packaged and the box arrived in perfect condition.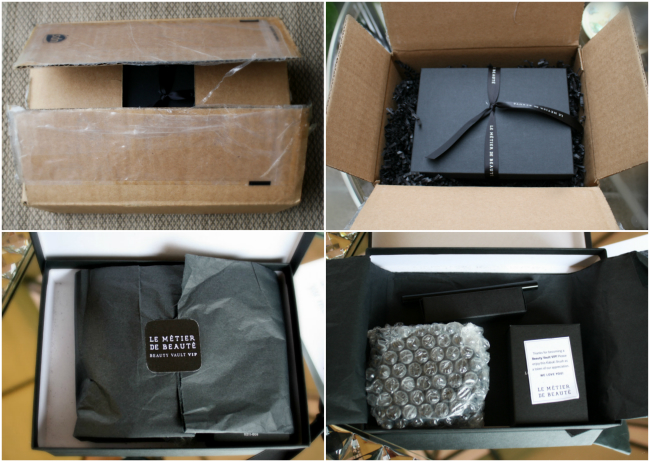 I re-purpose boxes when possible (and love Glossybox especially for that reason) and the Le Métier de Beauté box is quite lovely.  I know I'll find a use for it!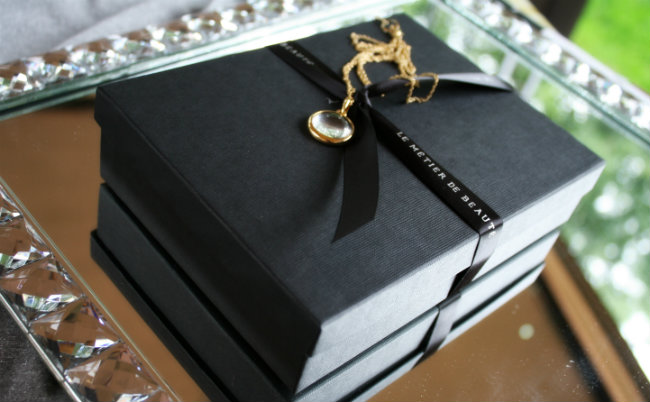 Note: the necklace isn't part of the sub 🙂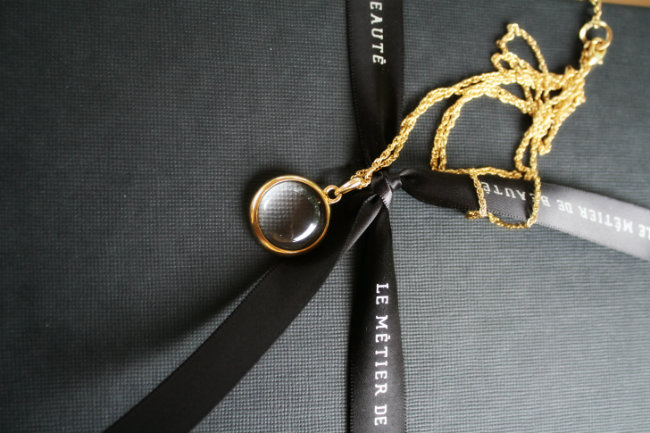 I don't know about you, but when I agree to pay $350 upfront for something I expect something amazing. I expect some pampering. Apparently, the folks at Le Métier de Beauté agree. I was delighted to find a handwritten note welcoming me to the program. Very nice touch.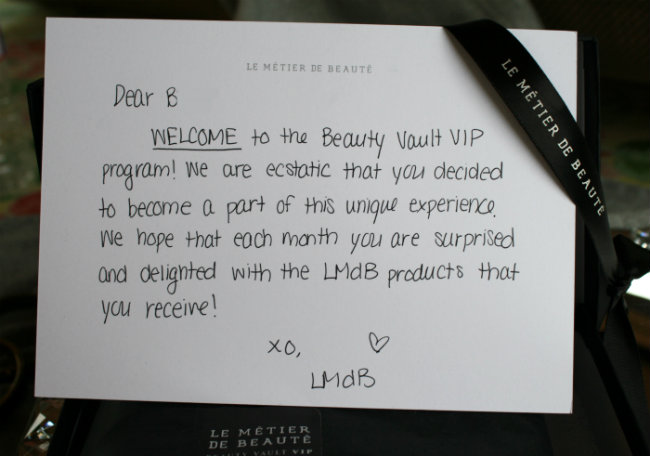 So… let's check out the products and see if I was as delighted as they hoped!
Hydra Crème Lipstick in Signature ($25)
Remember in the description above when they mentioned that VIP members would occasionally receive pre-release sneak peeks?  Well, the first box contained an exclusive pre-release lipstick in a newly developed (not yet released) Hydra Crème formula!
According to the folks at Le Métier de Beauté, this particular shade is named "Signature" because the brand's Artistry team believes that it is the quintessential red that every woman should own.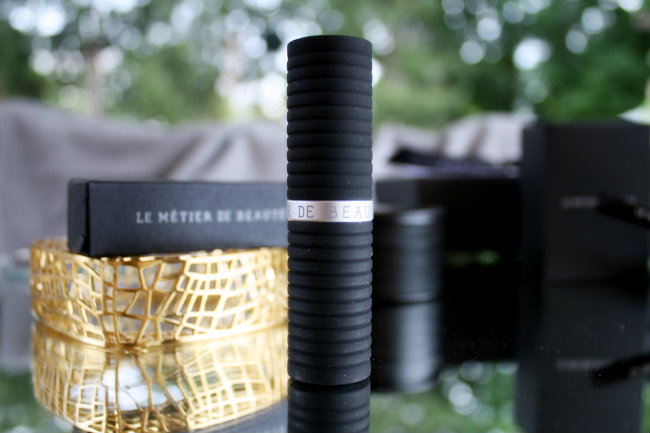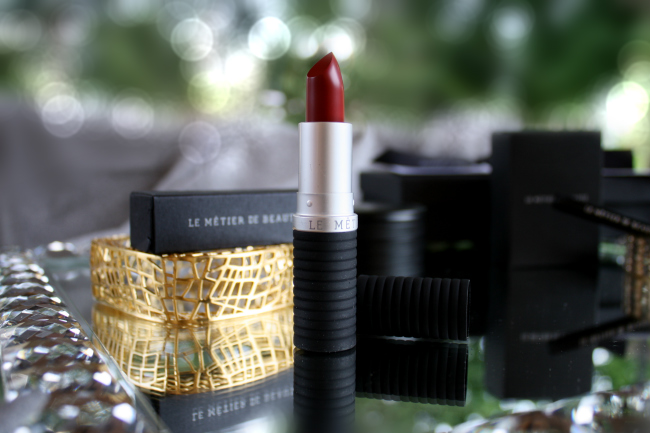 It truly is a lovely shade of red—a bit darker than it appears in the swatch below. It can be layered for a more dramatic look or dabbed on for a light stain of color. I haven't tested the wear yet but was quite impressed with the creamy/velvety texture of the formula and the color payoff.  The formula is quite hydrating and doesn't dry out my lips at all which is a huge bonus.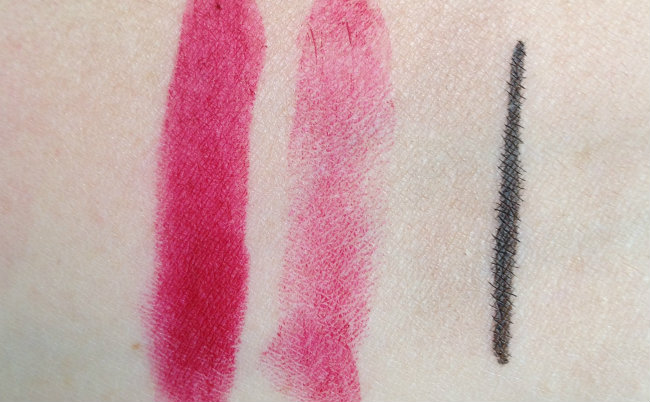 I was told this new Hydra Crème formulation took several years to perfect and was developed and designed specifically for Le Métier de Beauté.  It is described as an "emollient rich, hydrating formula that won't slide" and "delivers essential replenishment and voluptuous full coverage to lips."
16 shades, including Signature, are being launched in September and another 4 in November. They will be available for purchase at Neiman Marcus, Bergdorf Goodman, Saks 5th Avenue and Bloomingdales, as well as the Le Métier de Beauté boutique and independent retailers.
Precision Liquid Liner in Noir ($42)
This is one of Le Métier de Beauté's best-selling products and for good reason. This is the only product I received that I already own, and although it bled a bit in the swatch above (I blame my application on my arm!), it is one of the best liquid liners I have ever used.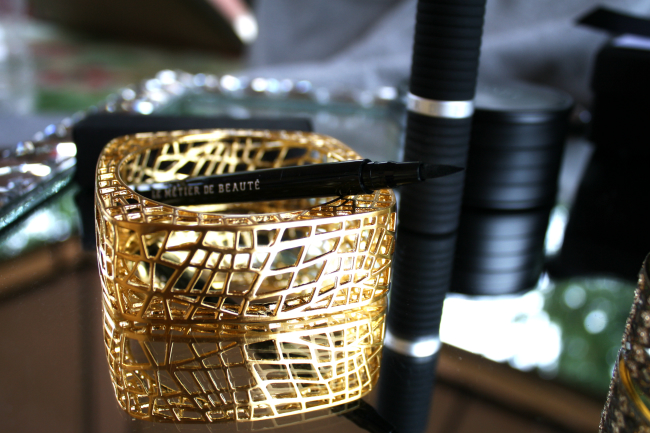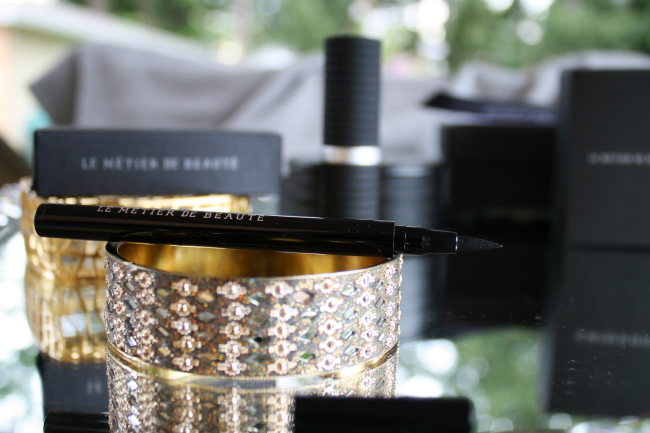 With proper application it won't bleed and stays put. All. Day. Amazing.
Kabuki Brush ($85)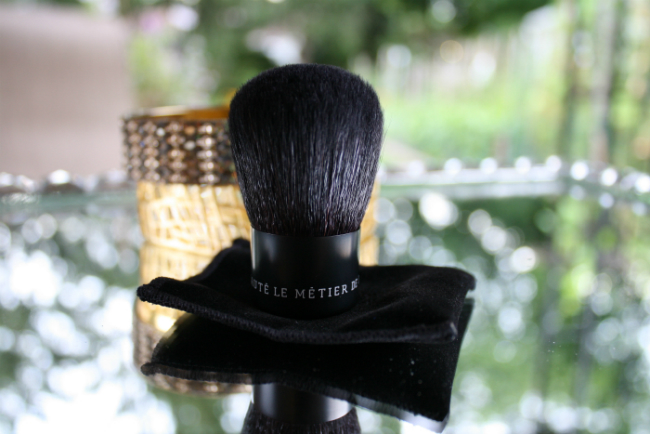 This was a bonus gift this month as a special thank you to subscribers… a bonus gift with an $85 value!
The brush comes in a lovely velvet pouch and was wrapped in plastic to hold it's shape. It's made of 100% goat hair but doesn't feel as soft as my TOM FORD brushes (which are the holy grail of brushes). Still, I am looking forward to adding this to my rotation as my Bare Minerals kabuki brush needs to be retired.
Kaleidoscope Eye Kit ($95)
Warning: this post is about to get even MORE picture heavy because this kaleidoscope is SOOOOO beautiful.
It is my understanding that everyone who subscribed for the Beauty Vault VIP program received the same lipstick, liner and bonus gift (kabuki brush). However, their are variations to the final item.  Everyone has/will receive a kaleidoscope, but the type (blush vs. eye) and colors may vary.
I received the Eye Kaleidoscope in Chauvet Pont d'Arc. This particular kaleidoscope is from the brand's Summer 2012 collection which was inspired by the Chauvet cave paintings in France.  The cave, located in the south of France, is one of the most significant prehistoric art sites known to mankind and contains the earliest-known cave paintings on the planet. This is an example of one of these paintings: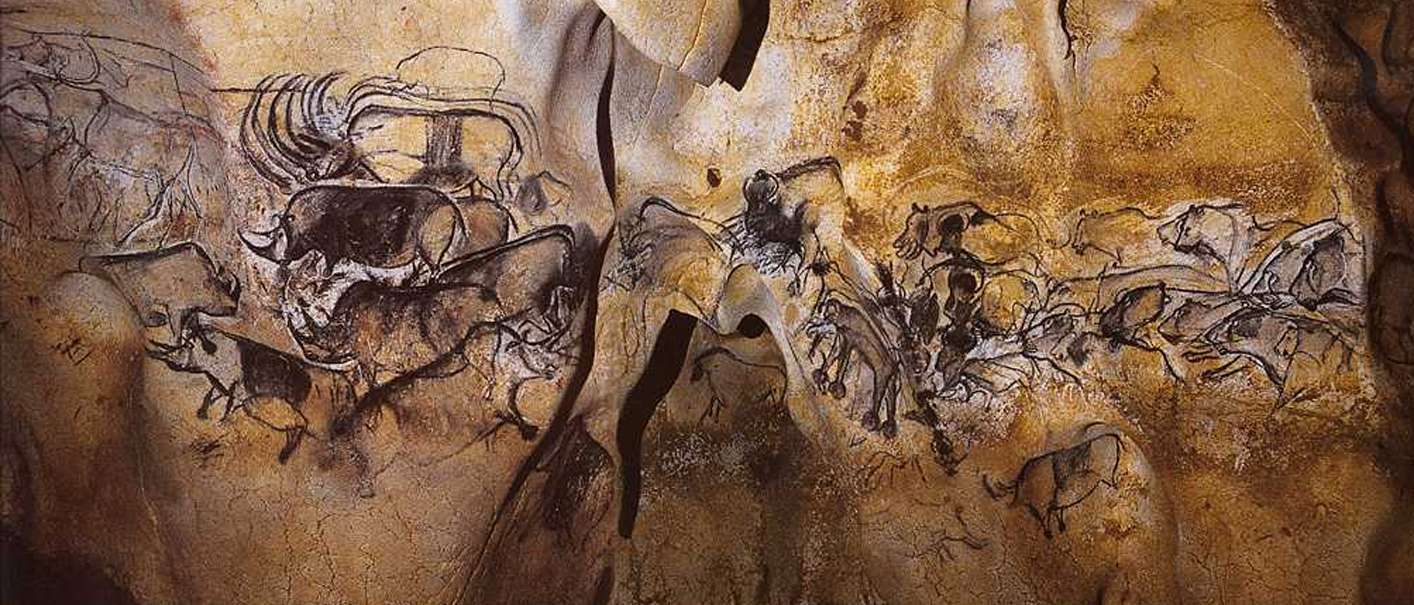 via
The kaleidoscope, the most fragile product in the box, was wrapped in a layer of protective bubble wrap as well as some black tissue paper.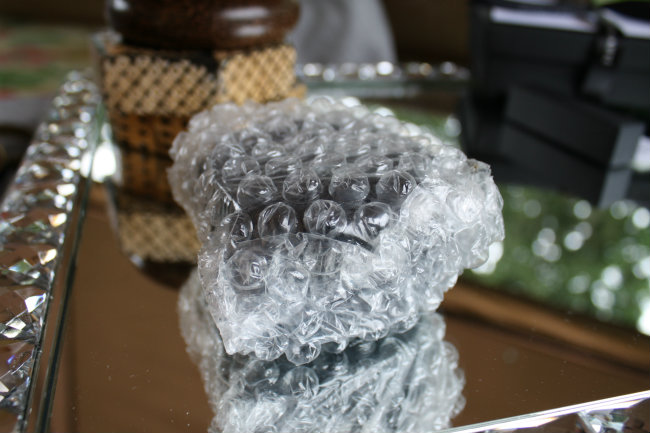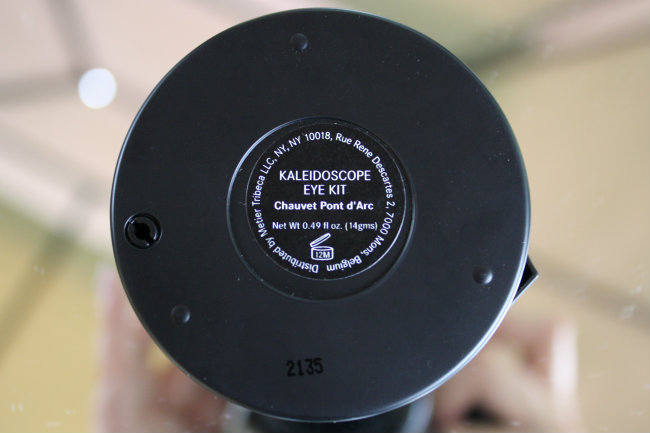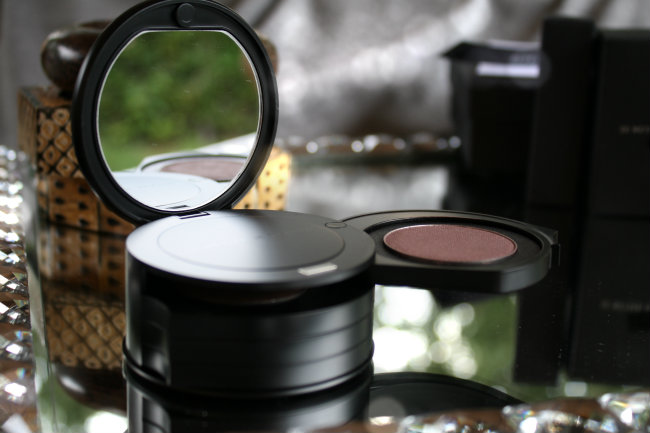 I could look at this all day, it's just gorgeous. And the colors are PERFECT for me.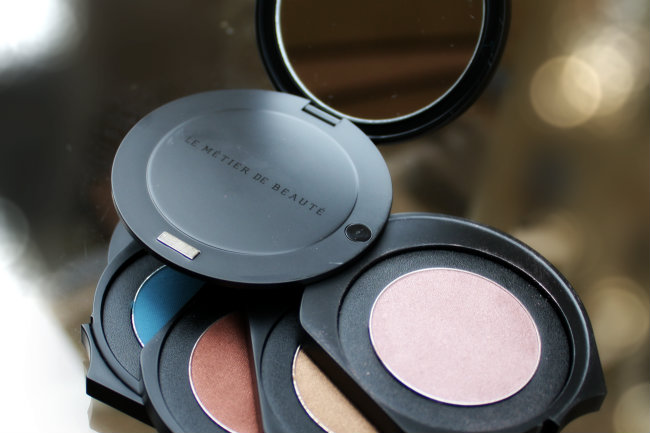 The shades in this particular palette are Umber, Ocher, Madder and Crystalline.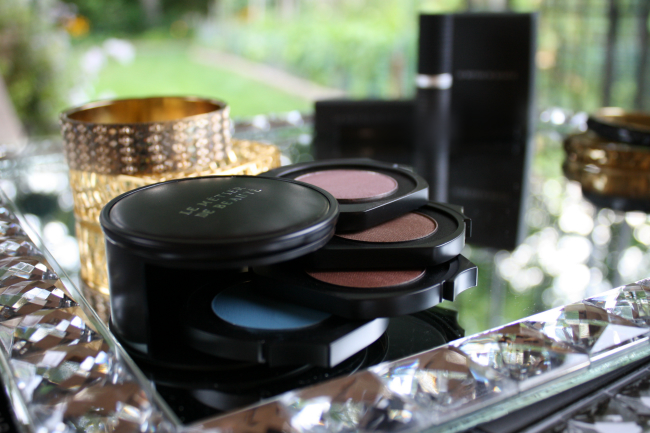 Here are some close-ups of the colors and swatches below.  These swatches show you what a regular wash of the cvolors looks like (not heavily layered). You can build up the individual colors by applying more layers, but kaleidoscopes are designed to be layered on top of one another (which is the image on the right in the swatch below).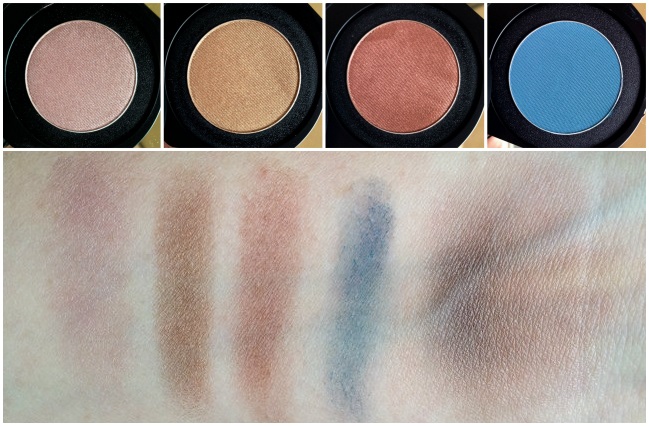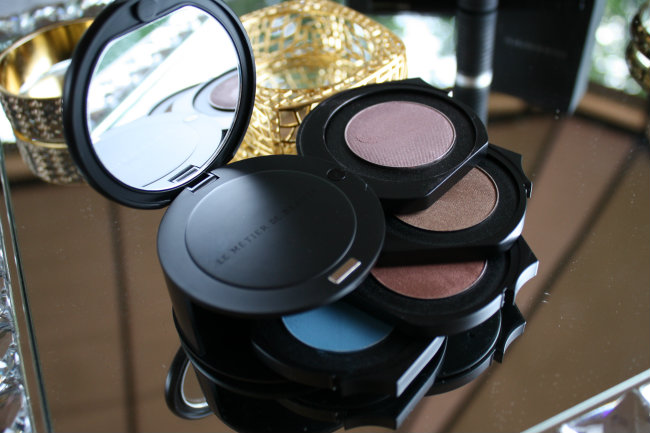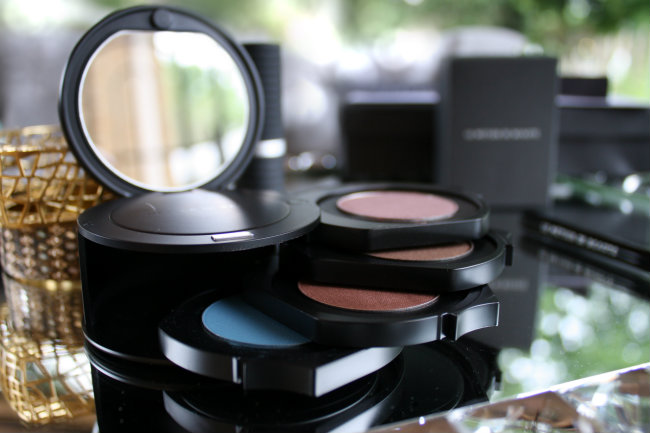 And a really horrible iphone photo of me today wearing the colors, along with my TOM FORD mascara, sans liner:

You can't really tell in the photo, but these shades are simply stunning and really make my blue eyes POP.
Did I mention how in love I am with this kaleidoscope?
LOVE.
The Verdict
I am beyond thrilled with this beauty subscription service.  This isn't a typical monthly sub… services like Birchbox and Glossybox may occasionally send you one full-size product, but for the most part they deliver sample and travel size products to your mailbox, and the only time I have ever received Le Métier de Beauté from them it was in a foil packet.
The Le Métier de Beauté Beauty Vault VIP program guarantees you at least one full-size luxury product every month and sometimes a collection of full-size products, like this month.
Even though I paid a whopping $349 upfront, I have already received, with this introductory box, $247 worth of products.  Another box or 2 and this year-long sub is completely paid for.
They have re-opened the subscription for the first 50 people to sign-up between now and August 31st, so RUN. Otherwise you will have to wait until July 2014.
The bad news?  Sign-ups are closed for the year, so if you want to take advantage of this sub it looks like you will have to wait until July 2014.
Meanwhile, you can check out the Vault here or purchase the current line of products at Neiman Marcus or Bergdorf Goodman.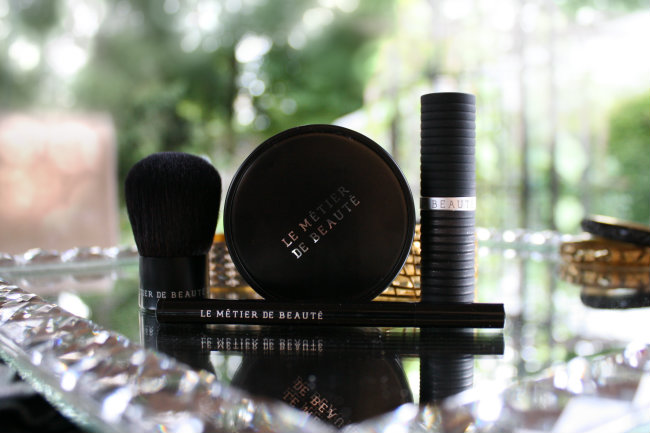 *****************************
Did any of you sign-up for this sub?
What do you think of your first box?
If you passed, are you happy with your decision?
All images by me unless otherwise noted