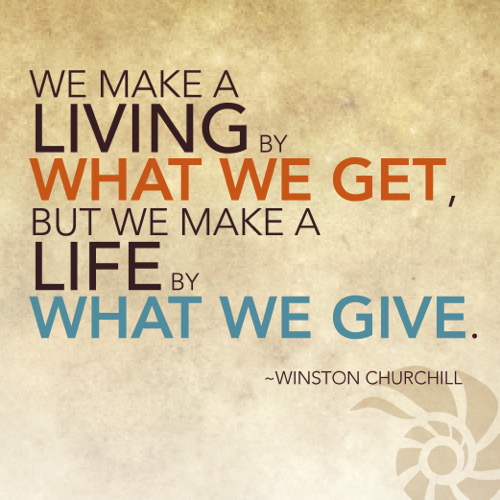 Image via
During this time of the year—even if you normally try to avoid it—you will be shopping online at some point in time. Whether you are purchasing gifts, holiday supplies or regular day-to-day needs, why not make the most of it and give back to a charity close to your heart?
It's no secret that I love to use ebates so I can get some cashback when I am spending online. I do. I spend quite a bit online so why not get some kickbacks?  However… I am self-admittedly being a bit greedy.
What I do at the end of the year (and what I really should do all year) is shop via goodshop. With goodshop, instead of getting cashback for me a percentage of my purchase is donated to the charity of my choice. They get the kickback. It's a great way to support a charity by doing something you already do.
Some of you know that —in the "real world"—I am a fundraiser. I work for a non-profit in the Cleveland area and have been a fundraiser for over 10 years. I know the world of charitable donations like the back of my hand and I can tell you with certainty that this is the easiest way you will ever find to support a cause you believe in. All you have to do is… do what you normally do anyway.
Websites like this usually give you multiple ways to support a cause with the most common being shopping-related donations and online search donations. goodshop is actually a part of a larger site called goodsearch—and it's the one I recommend—but it isn't the only option you have.
****************************
goodsearch/goodshop/gooddining
My favorite. They allow you to give back in a number of ways:
goodsearch: a yahoo powered-search engine that gives back. Earn approximately a penny for each search you complete using goodsearch. It might not seem like much but I use this as my main search engine year-round and those pennies do add up!
goodshop: you can raise money by shopping online in two ways. Either visit http://www.goodsearch.com/goodshop.aspx itself and search for retailers OR install the goodapp toolbar. I use goodapp and it automatically alerts me if the retailer I am visiting is eligible for a donation: 

gooddining: I haven't signed-up for this myself, but the third option allows you to earn donations for the charity of your choice when you dine out. You can earn up to 6% in donations when you use a registered credit or debit cards at participating locations (note: days when donations can be earned may be limited—read the fine print!).
Check out the faq if you want more information on where these donated dollars come from (mostly advertising dollars or commissions that are redirected to charities).
onecause
In theory onecause is very similar to goodshop. The site acts as a shopping portal that allows you to give back to a charity of your choice when you make an eligible purchase.
As with goodshop, you can raise money by shopping online in two ways:

I don't use onecause myself but if you are interested in learning more check out their help page for more information on how they operate.
iGive
If you aren't a fan of goodshop and/or onecause you can see if iGive is more your speed.
Again, iGive you gives you the option to donate back to a charity of your choice when you shop online.
Use the site as a shopping portal by going to directly OR
Install the toolbar

iGive, onecause and goodshop all operate on the same basic principles. For iGive's fine print, please read this.
****************************
goodsearch versus onecause versus iGive
As I mentioned, I personally use goodsearch (year-round) and goodshop (holiday shopping). I registered for iGive and onecause strictly for the purposes of this post and can offer you some quick comparisons here.
Donation Amount
In the screen captures above you could see that the donation when shopping Saks Fifth Avenue was largest when using goodshop (2.5 % versus 2.0% at iGive or onecause). goodshop also appears to have more partners and greater donation values across the board. This, combined with the additional donation amount you can earn by using goodsearch or gooddining, gives goodshop the edge.
A Case Study
I decided to take a look at a large non-proft—The World Wildlife Fund—and compare the success they have had on goodshop vs. onecause vs. iGive because that will be a good indicator of two things:
How many people are using the site in question, and
How beneficial they are to the organization in question
The thing to keep in mind about any of these websites is that they are only as successful as we make them. If you are consistent in your use, the contributions will add up. If you sign-up but never go back to it, you won't help the charity at all. Still, I think the difference here is rather remarkable.
goodsearch: $8,971 raised from 2,001 supporters

onecause: $7.75 raised from 7 supporters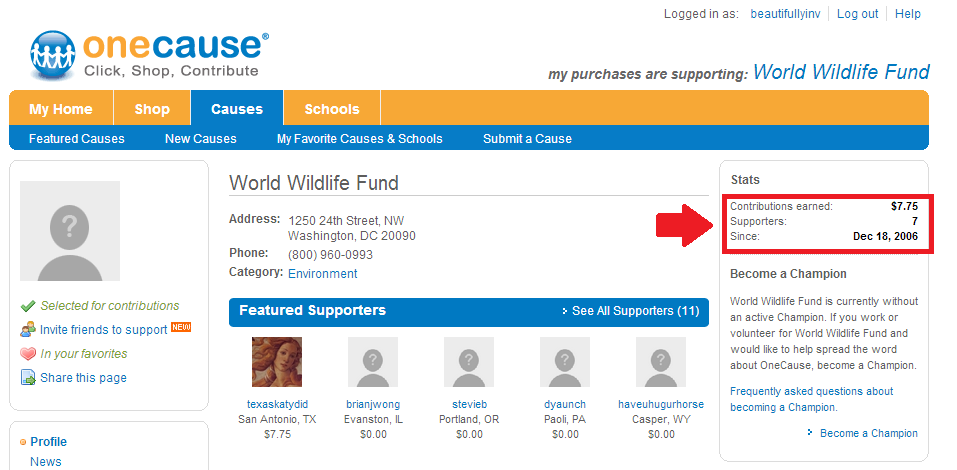 iGive: $197.72 raised from 48 supporters

goodsearch clearly is the winner here with over $8,000 raised by over 2,000 supporters. The other two sites can't even compare. This doesn't mean that the other two sites aren't functioning as they should— it just means they aren't reaching as many people. This, in turn, means that the greatest immediate impact is being made by goodsearch.
****************************
Conclusion
I need to stop being so greedy and use goodshop more often. 🙂
What do you think? Will you start using any of these sites?  
Or, if you already do, what has your experience been like?
Sound off below!