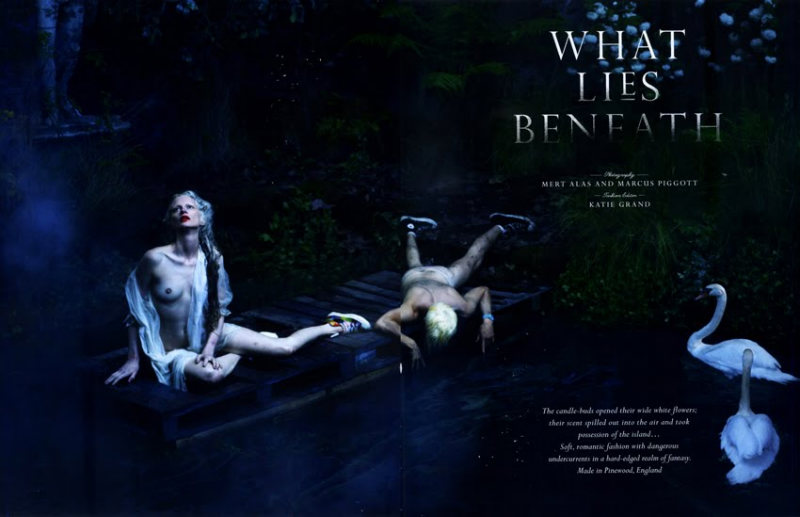 By now you're likely familiar with the content of LOVE Magazine #6 (also known as The Super Natural Issue).   The editorials and covers have been featured all over the internet as of late and to say that much of the content is absolutely stunning would be an understatement.  The majority of the issue was lensed by Mert and Marcus, who seem to be the "it" team of Fall/Winter 2011.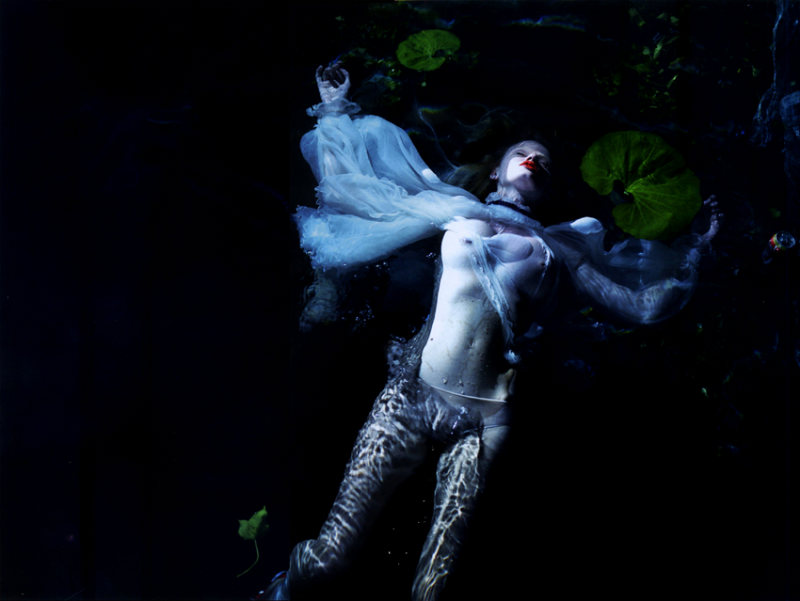 Of all the editorials I have seen so far, the one that instantly captured my attention and held it is What Lies Beneath.  Featuring Mariacarla Boscono, Saskia De Brauw, Kristen McMenamy, Paul Boche, Anais Pouliot, Lara Stone, Jed Texas, Guinevere VanSeenus, Xiao Wen Ju and Angus Whiteheadare, the imagery is provocative and breathtaking.  Darkly beautiful and disturbing.  Cinematic yet raw.
When I first saw them I was struck by the dark and haunting imagery… but something nagged at me… something familiar… something I couldn't quite place.
Until this evening while browsing Fashion Gone Rogue.  I was reading the comments on this particular spread when someone mentioned photographer Jeff Bark. That is when it all came together.
On the left is an image from Mert and Marcus' What Lies Beneath. On the right is an image from Jeff Bark's Woodpecker series (circa 2007).
Notice any similarities?
"In these photographs, scenes of dream-like concoctions coexist with unembellished realism. The muted moonlit tones soften the human forms and the watery illumination lends them the appearance of otherworldly creatures indulging in their private fictions, desires and escape."
Which series do you think is described in the above quote?
An uncanny resemblance, no?
I was first introduced to Jeff Bark through his Lucifer Falls series last year. That was around the same time that I first saw Woodpecker.  I remember being struck by its dark and haunting imagery, not unlike my reaction to Mert and Marcus' interpretation.
There is no denying that Bark was a direct influence to Mert and Marcus.  The question is: does this shoot go beyond inspiration or interpretation and enter the realm of plagiarism?
Most people have never heard of Jeff Bark.  They have never seen his work and have no idea that he originated this scenario and theme years ago.
Without crediting their inspiration, aren't Mert and Marcus doing a disservice to Bark?  Aren't the taking credit for an idea that is not in fact their own?
It is clear that Mert and Marcus didn't just decide to copy Bark and leave it at that.  Their interpretation of this theme goes beyond Bark's work and enters a realm of its own.  The underwater imagery is mesmerizing and unique and wholly their own.  But is that enough?
Check out both works in their entirety below and let me know what you think!
What Lies Beneath and Woodpecker (can you tell the difference?):
What Lies Beneath Photoshoot Details:
Photographer: Mert and Marcus
Stylist: LOVE Editor-in-Chief Katie Grand
Image Credit: LOVE Magazine images courtesy Fashion Gone Rogue and Real Life Is Elsewhere. Jeff Bark photography via Jeff Bark.