I am delighted, excited, thrilled, pumped – really, really happy – to share that my first guest post has been published on IFB!
I get a lot of questions about the plugins I use on this site so I thought it would be a great topic for an IFB post.  But because I had a difficult time narrowing it down to 10, I decided to include an additional 8 plugins… right here on Beautifully Invisible!
Check out the 10 WordPress Plugins I Can't Live Without by clicking on the image or read about my other 8 picks below!
Behind-the-Scenes
1. Categories to Tags Converter:  Are your post categories  and tags a mess?  Do you wish you could easily manage them?  This plugin will help you do it.   It let's you selectively convert existing categories to tags and vice versa.  Great for cleaning-up behind-the-scenes!
2. Revision Control:  WordPress is great about auto-saving your posts for you… almost too good.  It creates and stores so many revisions that they can clog up your database.  This plugin let's you dictate how many revisions you want saved and stored.
3.  TinyMCE Advanced:  If you use the native WordPress post editor you might find yourself wishing for more control over your formatting.  This plugin gives that to you.  It allows you to selectively choose which types of features to add to your post editor, like font size and family, tables, search and replace and more!  My post editor looks like this now:
4. Thesis Open Hook:  If you are a Thesis Theme user you must install this plugin.  It makes customizing Thesis incredibly easy and allows you to customize Thesis directly from your admin panel.
Design
5. Calendar Archives:  There are a ton of great archive plugins that you can choose from in WordPress. Smart Archives reloaded is probably the best known of these and looks quite elegant.  I chose Calendar Archives because I am a very visual person – I like seeing the images that go with the posts and I like the calendar format.  I think it's something different and fun!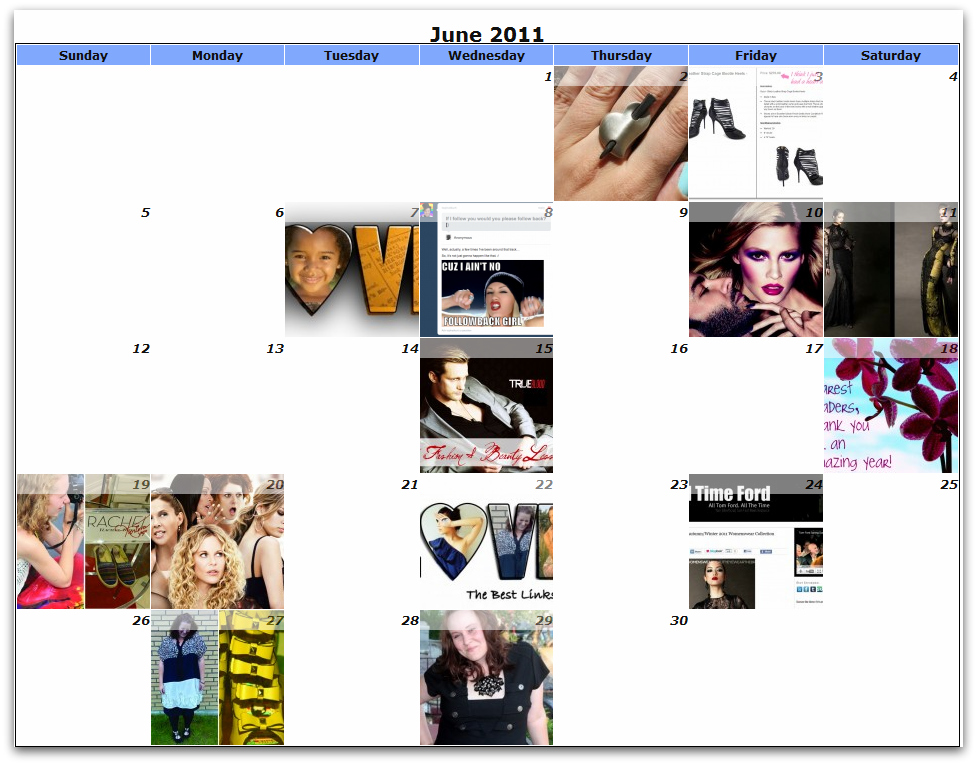 6. Contact Form 7:  For some reason it took me ages to actually set-up a contact form on my blog.  I used to just have my email address/twitter/etc. listed and realized that wasn't very efficient.  A contact form simplifies the process for people wanting to get in touch with you.  I picked Contact Form 7 because both the form and email are customizable.
7.  Most Popular Posts:  This one is pretty self-explanatory and you can see it at work in my sidebar above the instagram widget.  I am sure there is a way to code this yourself, but I am too lazy.  Again, there are quite a few plugins that list your most popular posts, but I wanted one that would sort by number of comments. This does that and more.
8. Tweet Old Post:  I just recently installed this plugin and already love it.  Again, it does just what it says – tweets your old posts!  Most likely many of your current readers have never seen these so its a great way to introduce them to some of your old posts.  You can customize the time frame it tweets from, exclude categories, etc.
And there you have it… these plugins, combined with the 10 I wrote about for IFB, are by far my favorites.
Now – what are some of yours?