For a long time I was convinced that I would never actually want to wear a pair of heels designed by Kobi Levi. I tend to like designs that are a little bit classic and a little bit rock-n-roll.  Designs that have an element of humor to them – like Levi's – are usually not my thing.
Despite this, I have been a long-time admirer of his work.  Not because I wanted to wear them, but because I truly admire each individual design as a piece of art.  These are actual sculptures which happen to be in the form of shoes… beautifully constructed, fun and unique.
It wasn't until recently that I decided a few are actually quite wearable!
Exhibit A: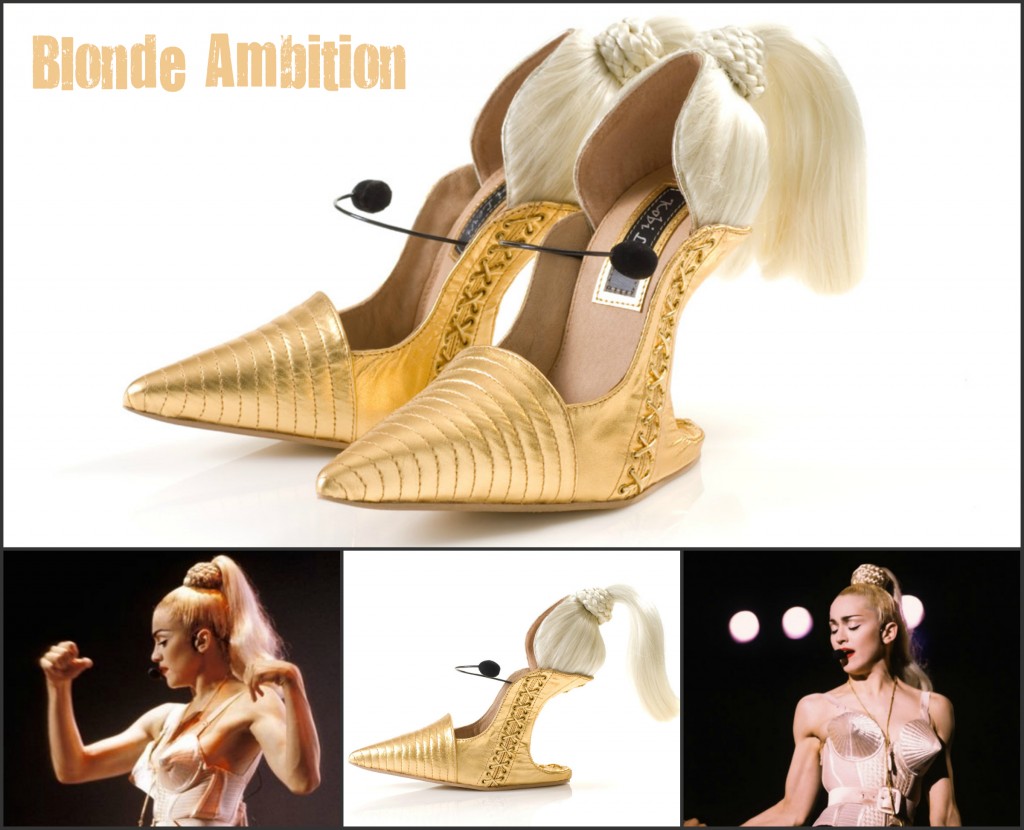 Does everyone remember Madonna's Blonde Ambition Tour (click here if you need a refresher)?   Levi captured the essence of that tour perfectly with these heels. From Madonna's Jean Paul Gaultier-designed bustier (cone bra! corset ties!), to her trademark blond ponytail and microphone, it's the ultimate tribute to one of the iconic looks of the 1990s.
And they would look perfect on my feet the next time I go to a concert (especially, say, a Lady Gaga show!)
Exhibit B:

Look at those floppy ears!  I love how Levi designed this shoe so the "ears" curl up slightly at the bottom.  A tiny hint of tongue and a cute nose ramp up the cute factor exponentially.
This particular pair is still more in the "I wouldn't wear it, but would display it!" camp.  However, I know quite a few people who would love to own these and wear them!
Exhibit C:

OK, I couldn't resist sharing this design. First, can we talk about the bottom of this shoe?  Pawprints, people. We have actual pawprints.  HOW. CUTE. IS. THAT?!
Don't even get me started on the tail/strap.  Genius.  These are so not me, but there is just something about them… I think I might actually wear these, too.
Exhbit D and E: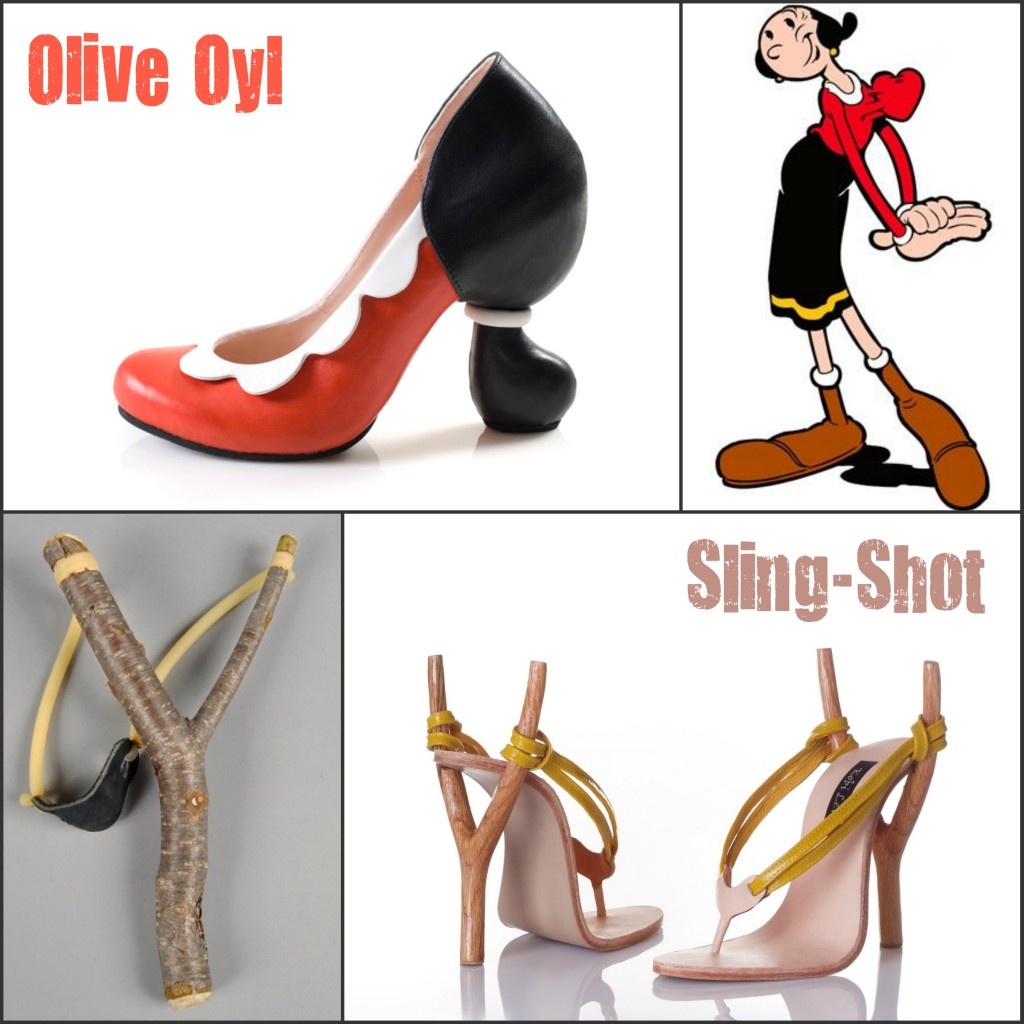 I wonder what Popeye would say if he saw these Olive Oyl heels?!  Again, the attention to detail is magnificent.  It's amazing that Levi can capture such an iconic character in a shoe design.
As for the Sling-Shot heels? Gimme.  I would wear those right now.  Today.  Plus, they can double as a weapon if need be!
Exhibit F: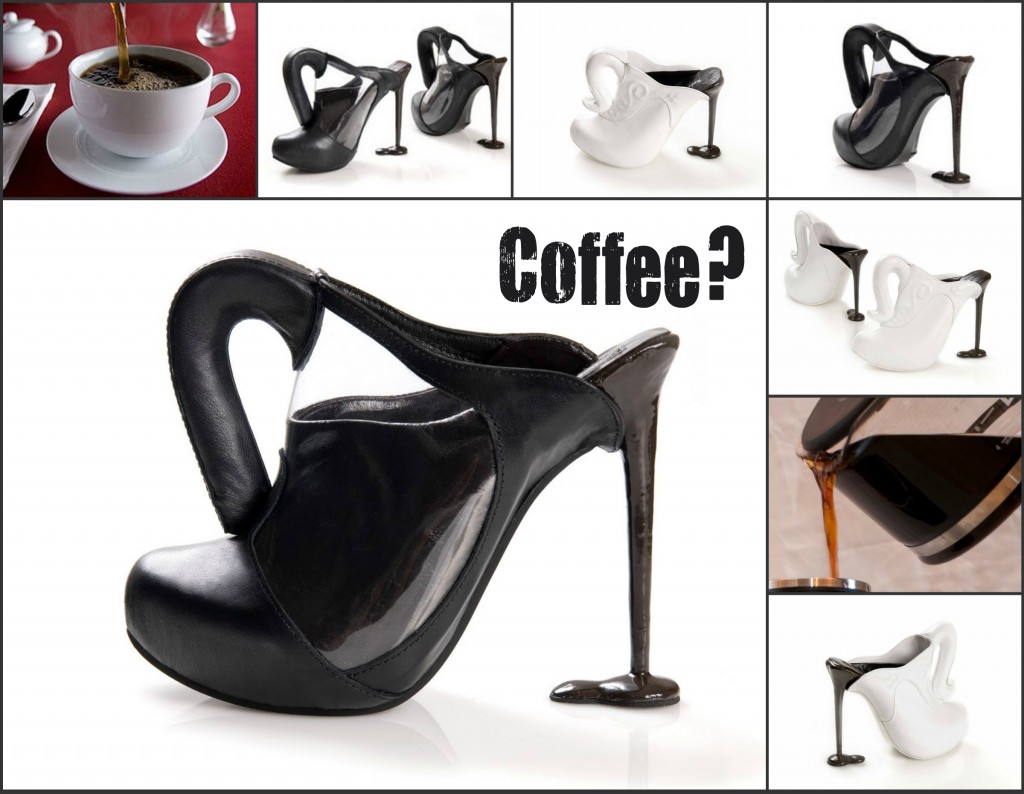 The Coffee? heels are among Levi's more recent designs.  There are two version: porcelain white and diner black.  I can't stop staring at the heel on these.  Look at how that coffee pools on the ground.  Perfection.
Again, I'm not sure I would personally wear these either, but I would love to see them on someone!
Exhibit G:

These I would wear simply because they bring back happy memories of the playground!  That, and the ladder heel is killer.
Exhibit H:

Can you just imagine the looks you would get wearing these?  Better yet – I wonder how many people would stop you to tell you that you have gum on your shoe? HA!  Love these.  Absolutely LOVE these.
Gimme.  I want to wear these to NYFW.  And the Blonde Ambition heels too!
So… would you wear any of these designs? 
Or are Levi's more risque designs up your ally (I have to say – I am strangely enamored with these too!)?
Image Credit: All footwear images via Kobi Levi Footwear Designs. Remaining Images via Google Images