Earlier this month, I blogged a bit about jewelry designer Wendy Brandes and her kickstarter project.  The great news is, with the help of the kickstarter community, Wendy was able to surpass her fund-raising goal of $10,000!  This means that her newest designs, the LOLZ, OMG and NYC swear-rings, can now go into production.  As someone who has long-admired her designs from afar, her kickstarter campaign was the incentive I needed to take the plunge and make that first purchase.
The great news (for me!) is that Wendy is super-fast with turn-around time and I already have my swear rings.
First, I just have to say these rings are abso-f@#!ing-lutely awesome!   They are made from quality sterling silver, the workmanship is excellent, and they are light as a feather.   And I love them.   Yes, I love them and plan to wear them as much as humanely possible.  Who needs a statement ring when you can have this instead:
*LOVE* *LOVE * *LOVE*
Now, on to the giveaway.  Sometimes, the best gift is one that you give.  Each one of you has given me the most wonderful gift.  Your presence here means the world to me, and I wanted to do something to show my appreciation to you.  I WISH with all my heart that I could afford to buy each of you a Wendy Brandes piece, but alas, I work for a non-profit. 🙂  (translation: not rich!)
However, to thank you for following my (sometimes lengthy) ramblings, and to celebrate the blog's move to wordpress, I am hosting a giveaway.  I thought long and hard about what I wanted to give away, and came to the conclusion that the best way to show each my readers how special they are is to give them a chance to win a special necklace.  One lucky reader is going to win this beautiful Wendy Brandes Lotus necklace: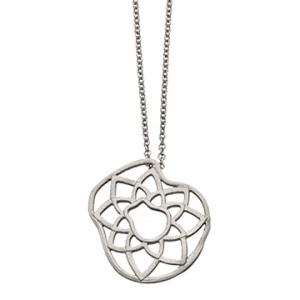 To enter, please leave a comment below and (if you don't already), please follow the blog via RSS, bloglovin', twitter or friend connect (links to the right).   I'll randomly pick a winner on September 30th.  International residents are also eligible, so comment away!

I hope you like the necklace, and good luck!