If you haven't already done so, please click here to enter to win a Wendy Brandes Lotus Necklace!

To wear heels, or not to wear heels, that is the question
According to a study conducted at England's Northumbria University, men could care less whether women wear high heels or not.   Per the UK Daily Mail, "the tests looked at whether the change in body posture brought about by wearing heels, such as the illusion of longer legs, tilting torso and more prominent rear, sends a signal which has an effect on men."  The conclusion?  Male observers were unable to tell which of the female  subjects were wearing heels.  While I agree a shoe alone doesn't make a woman confident and sexy, I don't believe it's absolutely irrelevant.
I don't know about you, but I wear heels for me.  They make me walk straighter, carry my head high, and feel sexier.  If I feel sexier – I act more confident.  It doesn't matter whether a man notices my heels or not – I notice them.  Other women might feel just as sexy in flats as I do in heels.  Nothing wrong with that.  The point is, if we are confident in what we are wearing, we show that confidence.  The man might not notice the shoes – but he certainly notices the confidence!
Besides, can you really convince me that the first few seconds of this promo would have been just as sexy if she wasn't wearing heels?  Everytime I saw this on TV, I died a little inside because I loved the heels so much!
Vote for the Sexiest Shoes of the Year
Obviously, Saks Fifth Avenue thinks heels are sexy.  Per WWD, they, in conjunction with Footwear News, are holding a contest to determine the years sexiest shoe.  Contestants range from Christian Louboutin to Manolo Blahnik to Miu Miu and Dolce & Gabbana.
Voting is open to the public and will take place online, as well as at the 10022-SHOE boutique in the flagship Saks Fifth Avenue store in New York.  Click here to vote online today!
My pick?  These Jimmy Choo Feline's.
Blog Writer?
I've shopped at ModCloth a few times.  Many of the items aren't really my style, but I occasionally run into something with just the right amount of edge.   Regardless, I always get a kick out of the names they come up with for items, and sometimes the descriptions are absolutely genius!  I was perusing the site last night when I came across the "Blog Writer Dress."
Although I could see some bloggers wearing this (Tavi comes to mind – and she would rock it), I wouldn't be caught dead in it.  It looks like a nightgown to me (grandma's night gown!), is not polished at all, and it's rather pricey for what it is!   I know ModCloth is just trying to think of fun names for their dresses, but I hate the idea of people thinking bloggers dress like this.   It's stereotyping, in a way, and am I wrong in thinking the majority of fashion bloggers wouldn't wear this?
Thou shalt not use the name "Chanel" in vain
This is something we should all be aware of as fashion bloggers: Chanel is on the prowl for people that are misusing their trademark brand name.    Specifically, they would like a cease and desist placed on the use of the word "Chanel" as an adjective.  The powerhouse recently took out the following ad in WWD:
So, fellow bloggers, be mindful of that next time something reminds you of a Chanel piece!
Metro Chic and Tom Ford's Black Orchid
Quite a few of you have been asking about the nail color I am wearing in this photo: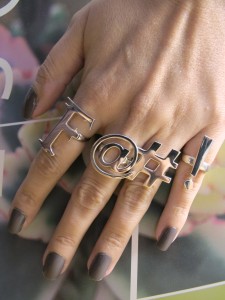 It's called Metro Chic by OPI for Sephora.  It's actually a really popular shade from last fall, but I still love it – one of my faves!  Click on the image below to buy it.
Another nail color I am excited about is Tom Ford's Black Orchid!  Although it looks more red than black, it kind of reminds me of Chanel's Vamp (please don't hurt me for the comparison, Chanel!).  Looking forward to seeing this one in person.
A couple of doses of inspiration
Karen Elson looks spectacular in this Harpers Bazaar shoot, and I am seriously coveting those gorgeous red locks of hers!
Photoshoot Details:
Harpers Bazaar UK, October 2010
Photographer: Alexi Lubomirski
Meanwhile, I am strangely drawn to Eniko Mihalik's hair in this shoot.  I can't stop staring at this shot… (plus, the dress is gorgeous!)
Photoshoot Details:
Harpers Bazaar Spain, October 2010
Photographer: Nico
How is your Wednesday going? Anything particular on your mind?