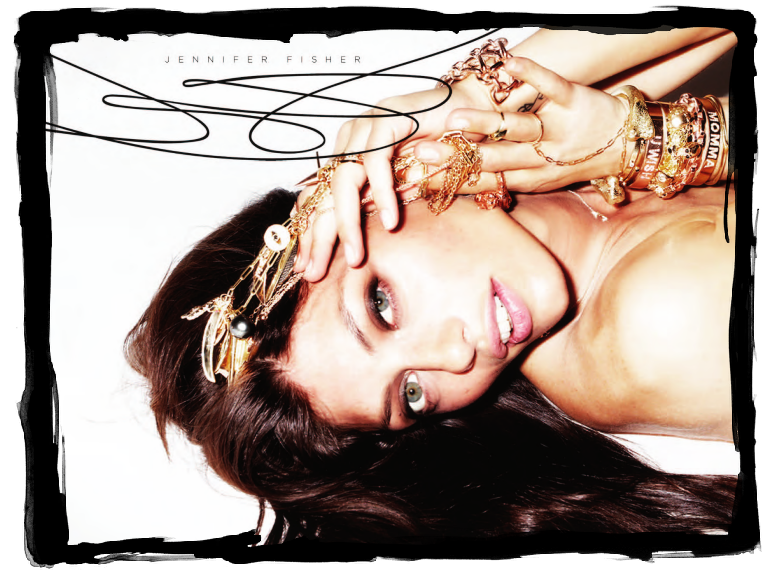 Have you noticed that I have an addictive personality? I do. I blame it on the fact that I am a Scorpio.
I become absolutely obsessed with certain things. Like my favorite designer. Or a certain type of ring.
My latest obsession? Jennifer Fisher Jewelry.
A Girl Crush
This isn't something new, really. I've mentioned the line before, but it is an obsession that has been a long time in the making. It began a couple of years ago when I started admiring the line from afar. The pieces have a recognizable tough/edgy look to them and I kept spotting them in magazines or on TV but I didn't really know anything about it.
That all changed when The Coveteur featured Jennifer Fisher on their site. I loved reading Fisher's story and thought it was fascinating that such an edgy line was ultimately inspired by her son Shane. Not only is Fisher the brains behind the business, she also has impeccable style and — clearly — an appreciation for the Tom Ford days at Gucci (see the image below).  Can you say instant girl crush?!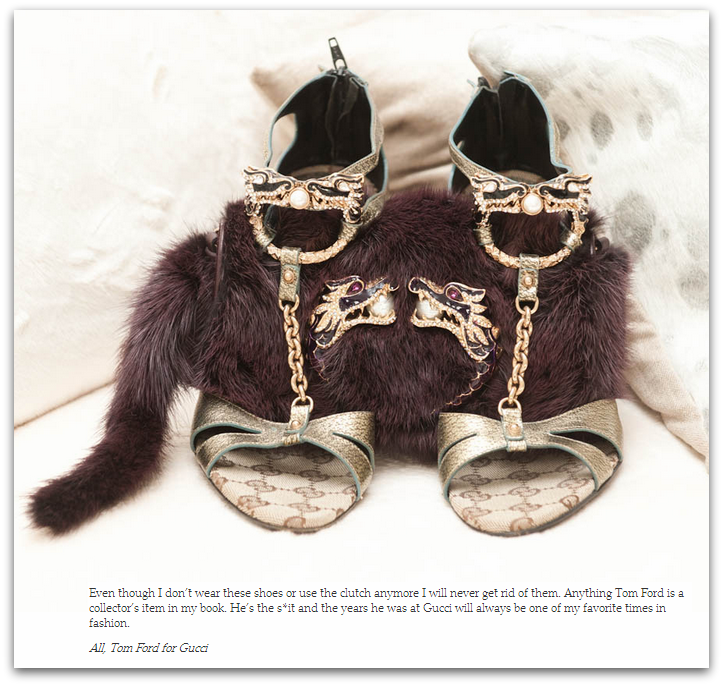 Image via The Coveteur
The line has been getting a lot of press recently. Magazines are all over it and pieces have been featured in movies and TV shows including Sex and The City, Gossip Girl and Hart of Dixie, to name a few. Fisher herself has been interviewed for numerous online outlets and that is only going to continue as her star continues to climb. To top it all off, she was recently named one of this year's CFDA/Vogue Fashion Fund finalists. I can't wait to see what the future has in store for her.
One of the best things about the line's growing success is that high demand keeps it expanding.  A lot of the designs are now available in brass, which makes them more affordable, and I just recently discovered Fisher launched Fawn, a diffusion line of sterling silver jewelry.
A few months ago I finally broke down and purchased my first brass ring.
Then, a few bracelets.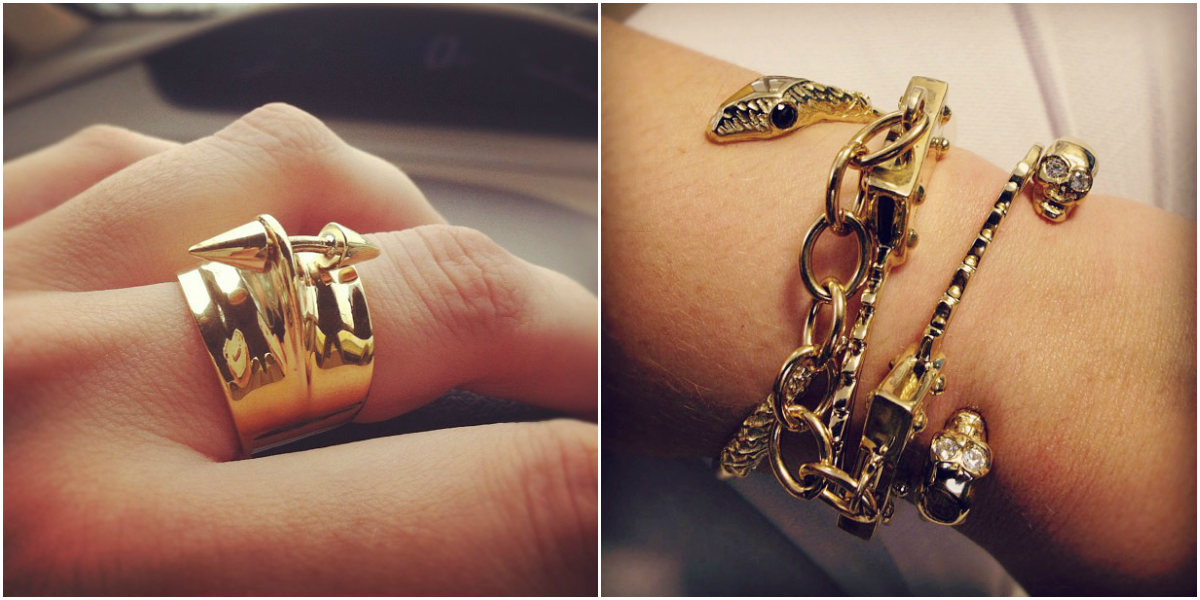 And now I am completely "ohlookprettyedgyshinythings!" obsessed.
As you might guess, getting my hands on the Spring 2013 lookbook didn't help. At all.
The Spring 2013 Collection
I could go on for days about the upcoming collection, but I thought I'd simply share a few of my favorite pieces with you instead.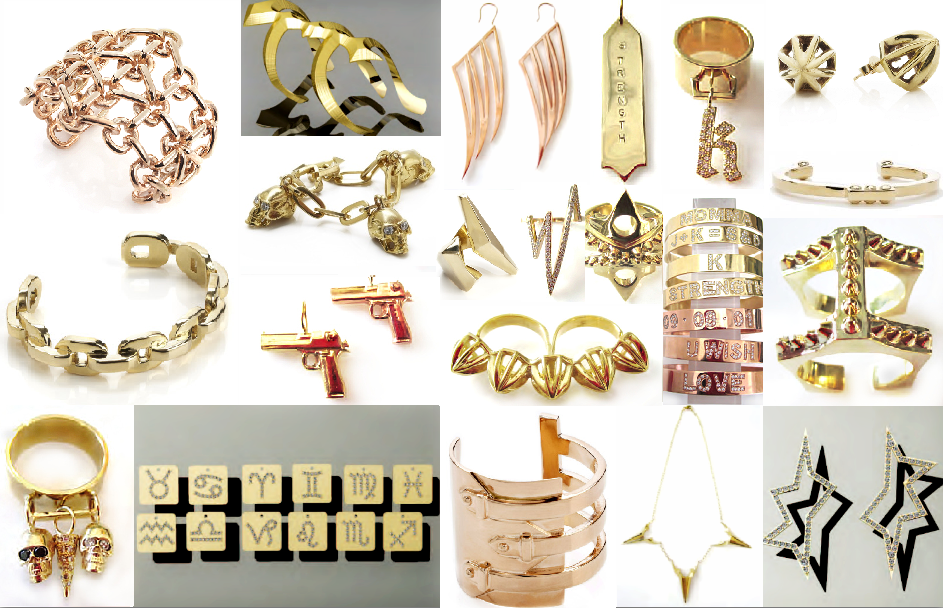 Top (from left to right): Rose Chainmail Cuff; Vertebrae Branch Cuff; Triple Hollow Wing Earrings in Rose; 14K Gold Large Spike Tag; 14K Yellow Gold Charm Ring w/Pave White Diamond Small Gothic Letter; Domed Caged Stud Earrings; Brass Rivet Cuff (bottom)

Middle (left to right): Brass Small Square Chain Link Cuff; Skull Charm Bracelet, 14K Yellow and Rose Gold Gun Charms (bottom); New Prism Ring in Brass; 14K Yellow Gold Pulse Ring w/Pave White Diamonds; War Ring in Brass; Brass Double Finger Domed Cage Ring (bottom); 14K Yellow & Rose Gold Burnish White Diamond Word Cuffs; Brass Plank Ring
Bottom (left to right): 14K Yellow Gold Charm Ring w/2 Small Skulls & Mini Pave White Diamond Cone; 14K Yellow Gold Zodiac Charms w/White Diamonds; Harness Cuff in Rose; 3 Piece Joint Mini Talon Sword Necklace; 14K Yellow Gold Pave White Diamond Jagged Star Earrings
If I had to pick one piece, it would probably be the Charm Ring with the Skulls and Cone.  Or maybe the Harness Cuff.  Or that skull bracelet.  Or… everything.
The Spring collection isn't available (yet!) but you could get lucky and get a pre-order or 2 in if you keep your eyes open on a few websites.
Where To Buy
In all honesty, Jennifer Fisher Jewelry can be more than a bit difficult to locate if you don't know where to look.  If you prefer bricks-n-mortar stores you can try Barneys New York or check this list for more options, but I recommend:
Jennifer Fisher Jewelry: the official website. The new collection isn't available online yet, but check out her full catalogue of offerings here. And then make sure you follow JFJ on instagram (my favorite!), twitter and facebook.
Barneys New York: Barney's carries a capsule collection of JFJ.
Edition01: This is one of my favorite places to buy JFJ (it's where I purchased all my bracelets) and they have quite a few pieces available right now including a few Spring 2013 pre-orders. If you sign up with my link you'll get $100 off your first purchase of $250 or more!
Moda Operandi: My other favorite.  They often feature JFJ and had a number of items from the Spring Collection available for pre-order a few weeks ago.  Sign up and watch for future sales!
The Spring 2013 Ad Campaign
Check out the Spring 2013 Ad Campaign and some shots from the Fashion Week Presentation below, and tell me what you think about Jennifer Fisher Jewelry in the comments!
 Images courtesy of

Jennifer Fisher Jewelry

,

The Coveteur

and

Zimbio