Many thanks to IFB and Jessie of Denimology for including my post on Blogging Myths in this week's Links à la Mode roundup!
If you are interested in learning more about how to submit a post to future editions of Links à la Mode please check out this post on Grit & Glamour.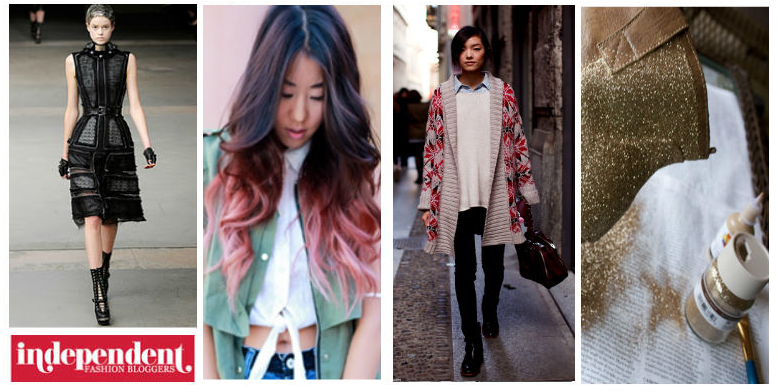 When Style Bloggers Turn Haute DIY Designers….
By Jessie Thorpe, Denimology
As fashion bloggers, we look for great fashion at affordable prices. Unfortunately, most times high fashion comes at a substantial price tag. Some of us get emphatically crafty to achieve the cultivated couture look we seek. By making adroit changes to items (sometimes slightly pass their prime) they become stylishly spectacular! For instance, my favorite links this week all happen to be DIY projects! These bloggers made tutorials for their colorblock hair accessories, faux Phillip Lim slacks and my favorite, DIY sparkle glitter boots!
THE IFB WEEKLY ROUNDUP: LINKS À LA MODE: OCTOBER 20TH
SPONSOR:
New Denim at Shopbop: DL1961, Blank Denim, William Rast, MiH Jeans, Hudson, Paige Denim, Rich & Skinny, James Jeans, Goldsign, Dallin Chase, Citizens of Humanity, Ksubi, & J Brand.
PLEASE READ IF YOU WOULD LIKE TO PARTICIPATE
If you would like to submit your link for next week's Links à la Mode, please register first, then post your links HERE. The HTML code for this week will be found in the Links a la Mode group.