Beware: This post is rated NSFW.  There are nude/partially nude/sexually explicit images below.  Continue at your own risk.

The impetus for this post was a recent visit to one of my favorite fashion editorial sites, ZAC Fashion.  I clicked over to see what the latest uploads were and found myself staring at a page rife with nudity and sexual imagery.  I don't usually have a problem with nudity, but as I stared at the page I found myself wondering "why?".  What was the point of it all?  What does it have to do with fashion?
Nudity in art is nothing new.  The Venus di Milo, Michelangelo's David, Goya's La Maja Desnuda, and Edouard Manet's Olympia are just a few famous examples that date back centuries.  There are many photographers that are known for their work with nudes, including one of my favorites, Ellen von Unwerth.  Yet the prevalence of nudity in fashion is something new, especially in the United States.
Helmut Newton
There is no denying that media depictions of nudity and sex have long been more accepted in certain parts of Europe.   As a result,  nudity has been present in publications like Vogue Paris and Vogue Italia for years.  Famed photographer Helmut Newton was among the first to shoot semi-nudes and nudes for Vogue Paris, as well as other publications, and his influence over today's editorials is undeniable.
Nudity in art, especially in photographic form, is about the intimacy of a moment.  Newton had an undeniable knack for capturing the sensuality of an image while celebrating the human form.   He did not shoot nudity for nudity's sake, but instead focused on creating a moment.  An emotion.  He focused on the stark contrast between clothed and unclothed.  Yet some element of fashion was always present in his work, even in the "stilettos-and-nothing-else" look he was famed for.
Sie kommen! is likely Newton's most famed work for a fashion magazine.  In 1981, Vogue Paris editor-in-chief Francine Crescent showcased Newton's work in an 8-page spread in the magazines' November issue.   His fascination with nude versus dressed imagery is clear here.
Modern Influence
We can't really talk about nudity and sexuality in fashion photography without mentioning Guy Bourdin.  Bourdin was a contemporary of Helmut Newton's who had a similar impact on fashion photography.   In many ways you could say their works were polar opposites. Newton is known for capturing monochromatic, intimate images of imagined private lives (oftentimes sadomasochistic).  Bourdin's work was highly stylized and saturated with color.  They both chose to tell stories with their cameras and the fashion was often secondary.  Yet it was always present in some form.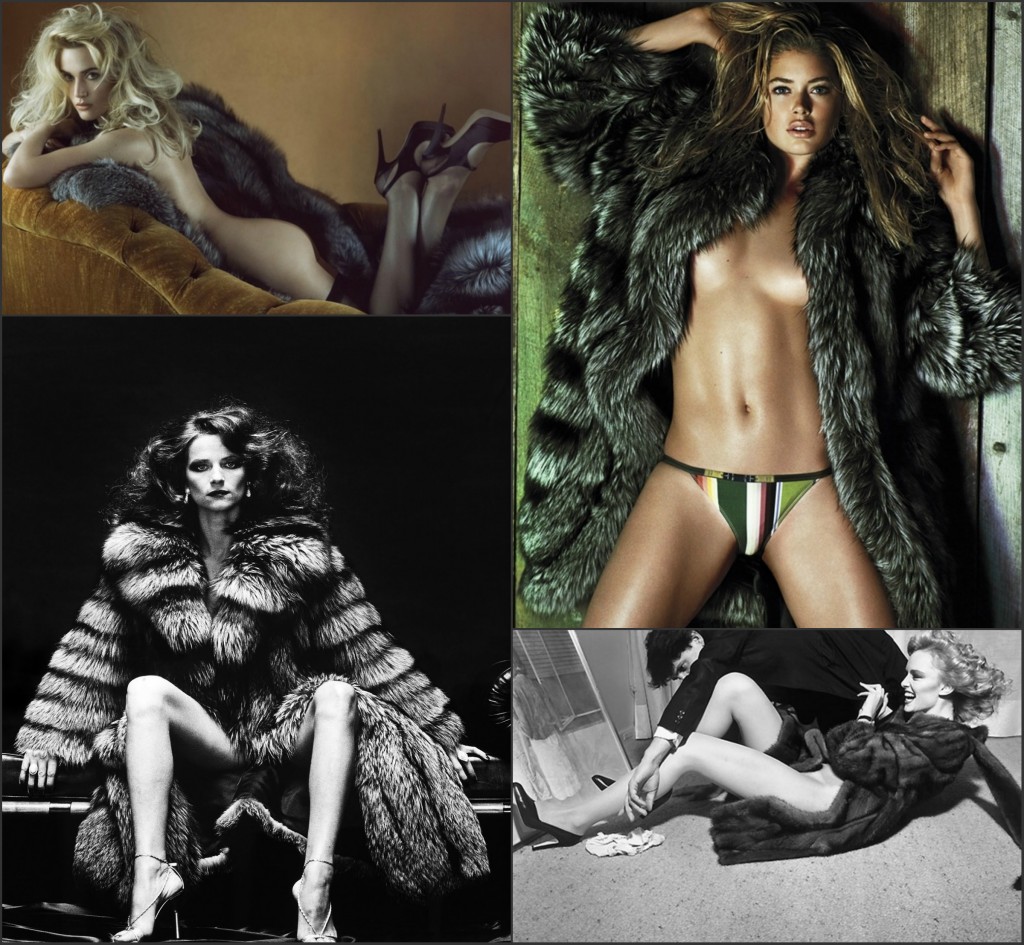 Left to Right (top): Kate Winslet by Steven Meisel for Vanity Fair, Doutzen Kroes by Mario Testino for V Magazine Swimsuit Issue Left to Right (bottom):  Charlotte Rampling as Venus in Furs by Helmut Newton (2002),  Photo by Guy Bourdin
You can clearly see the influence of Newton and Bourdin in the fur-focused editorials above.  But Steven Meisel and Mario Testino aren't the only photographers to take a page from their book.  It turns out that the oft-controversial Terry Richardson takes after the two of them as well.  A LOT.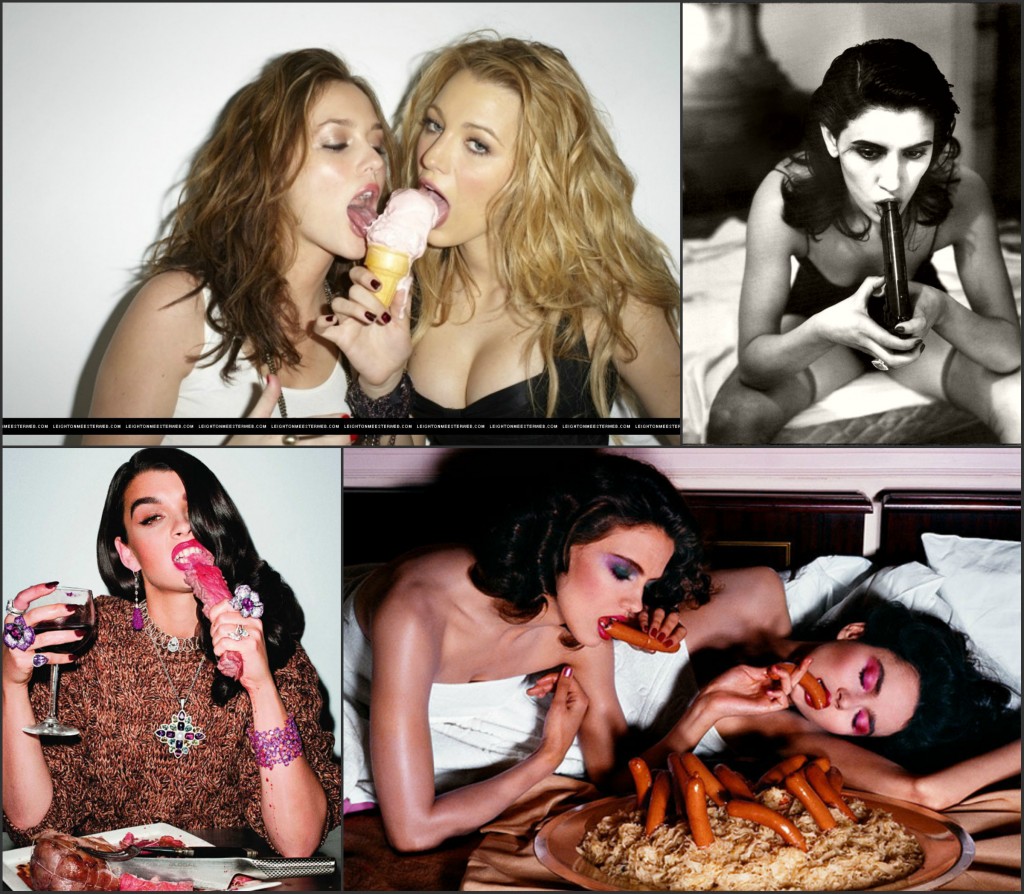 Left to Right (top): Blake Lively and Leighton Meester by Terry Richardson for Rolling Stone, Photograph by Helmut Newton Left to Right (bottom): Crystal Renn by Terry Richardson for Vogue Paris, Photo by Guy Bourdin
If I didn't know better I'd say that last shot with the sauerkraut and sausages was by Terry Richardson, that is how similar his aesthetic is to Guy Bourdin's.
Still not convinced that Newton and Bourdin have influenced today's fashion photographers?  Then check this out: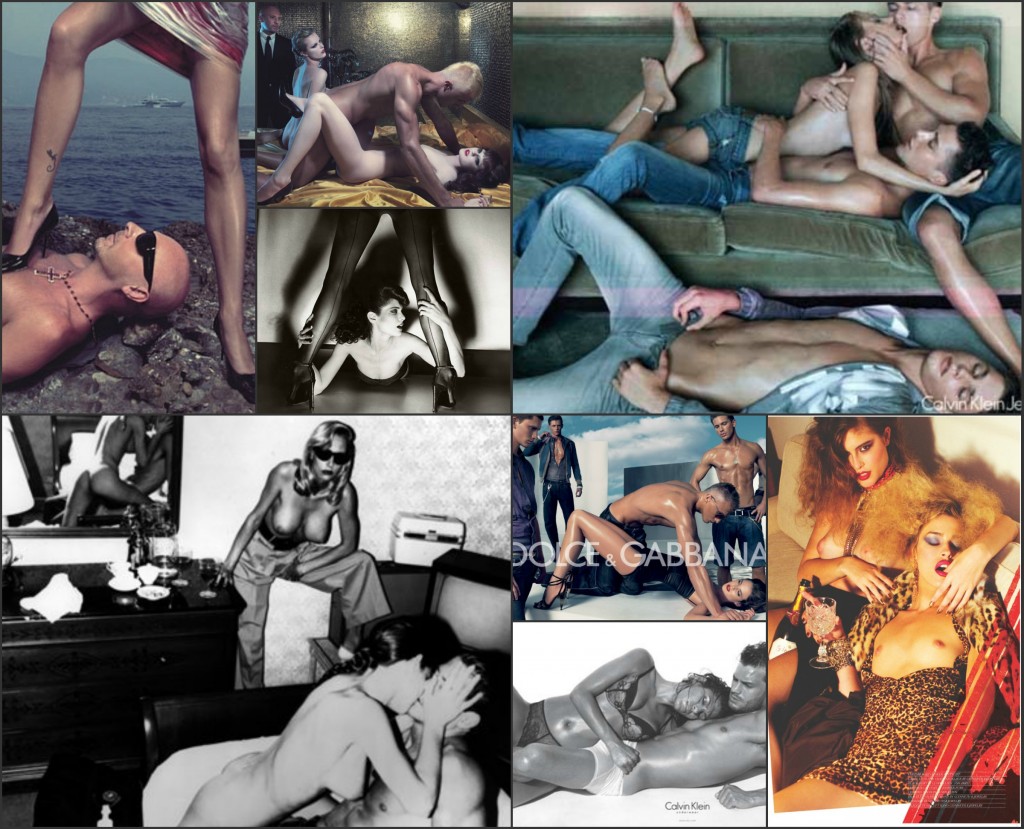 Left to right (top): Dolce Vita by Steven Klein for W Magazine, Dolce Vita by Steven Klein for W Magazine (top), Photo by Guy Bourdin (bottom), Steven Meisel for Calvin Klein (s/S 2009) Left to Right (bottom): Photo by Helmut Newton, Steven Klein for Dolce and Gabanna (1997) (top), Eva Mendes for Calvin Klein by Steven Klein (2009), Abby Brothers by Michael Donovan (2011)
Pretty convincing, right?   It looks like sexuality and nudity in fashion has been around much longer than one might think  What's interesting is that quite a few of the ads above are counted amongst the most controversial in recent years.
What about editorials that are 99% nude models focusing on an accessory here or there?  Do you think those are something new?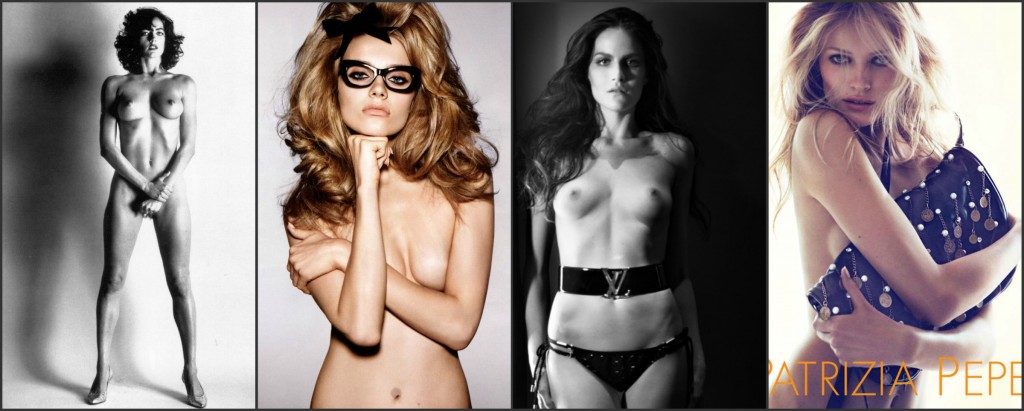 Left to Right: Photo by Helmut Newton, Tom Ford for Tom Ford (A/W 2009), Koray Birand for Elle Turkey, and Edita Vilkeviciute by Mert and Marcus (A/W 2011)
Nope, not new.  Helmut Newton did it first my photographing a nude woman rocking a pair of heels.  Advertorials for perfume are another venue where nudity often comes into play today and Tom Ford's ads are some of the most controversial.  While I was researching this post I came across an image by Guy Bourdin that actually made me gasp out loud.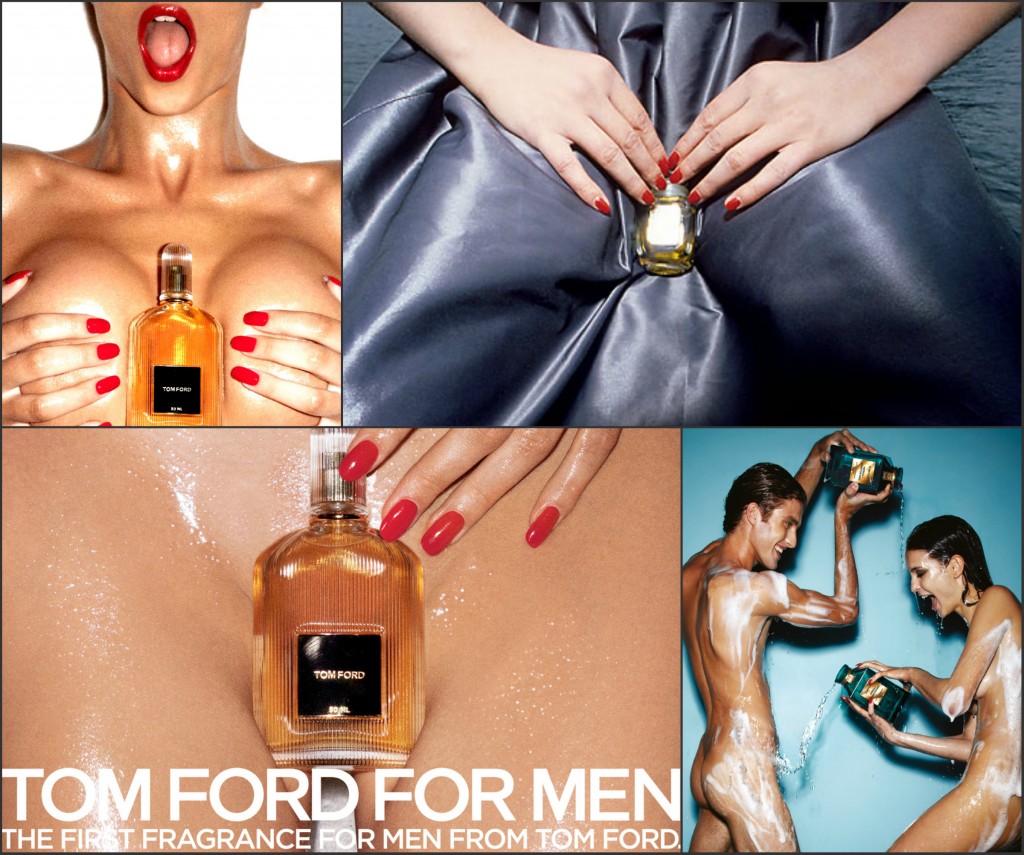 Left to Right (top):  Tom Ford by Terry Richardson (2007), Photo by Guy Bourdon, Tom Ford by Terry Richardson (2007), Tom Ford by Tom Ford (2011)
Even though the model's thighs/privates are covered in the Bourdin version, the idea is still there.  I think it's safe to say Tom Ford is aware of Guy Bourdin's work.  Terry too.
Final Thoughts
It is clear that both Newton and Bourdin used nudity and sexuality as a form of artistic expression – it just so happens their medium was fashion photography.
So how does that artistic expression translate to fashion today?  To me, fashion editorials are about selling a lifestyle.  I don't have a problem with nudity and sex in fashion editorials when they are used to evoke an emotion.  Eroticism, sensuality, intimacy.  Even shock.  If it's done well, it's quiet effective.
But gratuitous nudity – nudity for nudity's sake alone – makes less of an impact and elicits a negative response, from me at least.  When is it a form of expression, and when is it art?
Left to Right (top): Leigh Yeager by Jeff Tse (pic 1 and 2). Left to Right (bottom): Elsa Hosk by Andreas Kock, Elisabet Garcia by François Berthier
Is a net considered a piece of clothing?  What about no clothing/accessories at all?  Is that fashion?
When does it cross the line to soft pornography?
What are your thoughts on this subject?
Do you think there is too much sex and nudity in fashion editorials?
Do you think it's a trend that will pass, or do you think it's here to stay?
All images linked to original sources in description.
Header image: Abby Brothers by Michael Donovan (2011), Lara Stone by Riccardo Tisci (2011), Elsa Hosk by Andreas Kock (2011), Nicole Trunfio by Aram Bedrossian (2011)