Remember last month when you saw that to-die-for pair of Emilio Pucci (or maybe they were Burberry?) thigh-high boots on that one website?  You bookmarked it, right?  So you could go back to it later?
What do you mean you forgot?! 
OK.  Breathe.  No big deal.  Just go to the website and–
Wait.  Maybe they were on that other website.  Which one was it?  And were they Burberry or Pucci?  OMG, what if they were Louboutin's?! 
*sob* I'll never find them again.
***************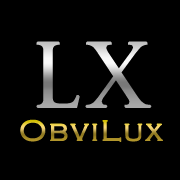 OK, friends. Fess up.
How many times has something like that happened to you?  Maybe it was a new lipstick.  Or a skirt.  Maybe it was a pair of killer heels or a clutch.  Maybe it was a pair of sunglasses.
As someone who does a lot of online shopping and browsing, I know it's happened to me.  More times than I care to count.
I'm always on the lookout for ways to help organize my shopping habits.
I've tried bookmarking items I like to save them for later… and end up with an unorganized mess. I've tried tagging items in Polyvore… and end up never going back to them. I started to rely on memory recently and you know that is just bound for failure.
I thought it was hopeless… until I was introduced to ObviLux.
ObviLux is the brainchild of three Stanford University design students.  They had been working on some other web-related projects when they noticed a few friends posting items they found while shopping on each other's Facebook walls.  It didn't take them long to realize that they could develop a more efficient and fun way to share shopping finds while also creating a sense of community and engaging brands.
Enter ObviLux.
ObviLux is like the Facebook Google+ of online shopping.  Not only does the site let you "Lux!" (a fancy way to say "tag") the items you are browsing with the click of a button, it is also a social shopping community.  My favorite kind!
A Sense of Community
ObviLux is fueled by community participation and is 100% user-curated.   All of the clothing, products and stores found on the site were originally Lux!ed by users.  It keeps growing as more users join and more products are added.
Current users are able to engage people outside of the ObviLux community by selectively sharing their finds on Facebook as part of the Lux!ing process. This means that instead of annoying hundreds of Facebook friends with a find, you can direct it to the people who you know would be interested.
Users are also able to comment on the items they Lux! and share any feedback they have.  Do the shoes run a 1/2-size small?  Put it in the notes.   Does the picture not do it justice?  Share!
This interactive nature of Lux!ing is undoubtedly a great feature, but it is the community within ObviLux that is strongest.  You can easily follow both stores and individuals that match your sense of style on the site.
Right now it seems that many of the more active participants are bloggers.  What better way to meet new bloggers than by shopping their picks while sharing your finds at the same time!
The site also lets users create "style sets" that take the shopping experience a step further.
I bet quite a few of the users on the site aren't familiar with Wendy Brandes' line.  If they follow me they will learn about her greatness.
Store Ambassadors
The most unique feature on ObviLux is the idea of a "store ambassador".   This is something that the site developers are still working on, but the idea is pretty simple: users are able to earn store-specific points by luxing items, following others, commenting, re-luxing, etc.   The users who earn the most total store points in a 30 day period become ambassadors, similar to 4-Square mayors.   At the moment there are no perks other than the title, but the idea is that partnering brands will reward the ObviLux store ambassadors with gift cards, merchandise and other promotional items.
Not bad.
ObviLux is definitely still going through its growing pains and many more improvements are on the way, but so far so good.  I look forward to seeing what the future has in store but, in the meantime, my shopping has gotten a bit more fun and efficient.
Watch the video below for a more detailed overview on how the site works and follow me on ObviLux here. Already a user?  Great!  Drop me a note in the comments with your link.