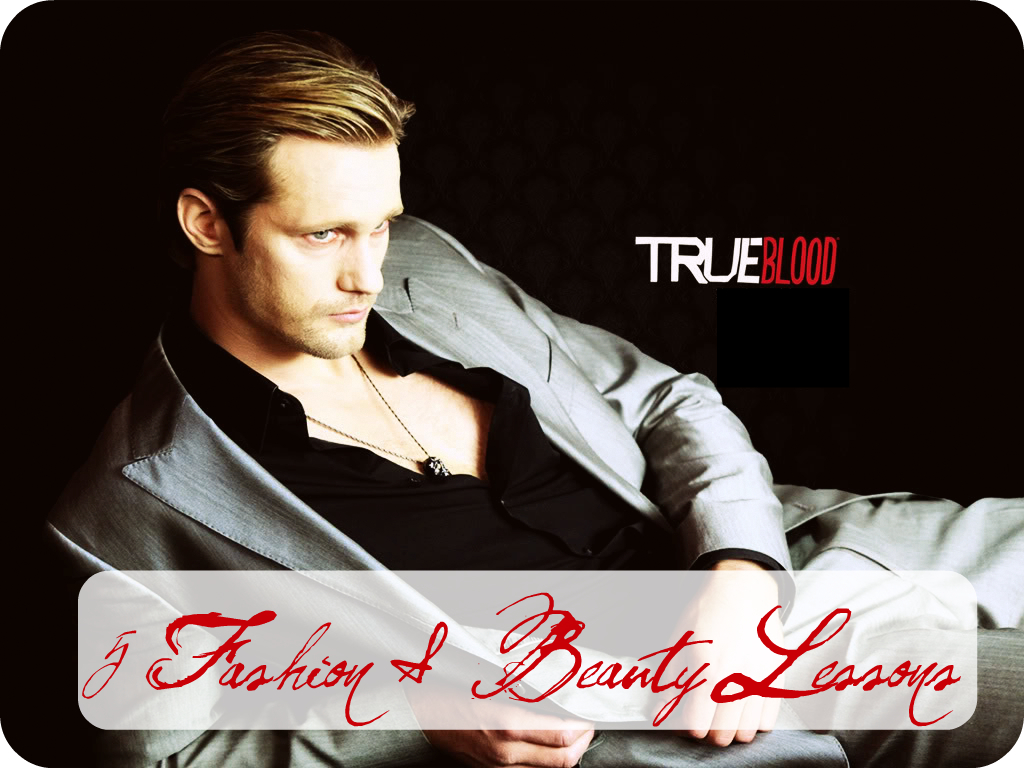 I don't think anyone can argue that there is something inherently sexy about vampires.  In almost every story you might be reading, or  television show or movie you may be watching, they exude sensuality and passion.  It defines them.
The vampires on HBO's True Blood are no different.  Though at times cold and calculating, they are ultimately ruled by their passions and relationships with the residents of Bon Temps, Louisiana.
Yet in the middle of all the drama there is levity and inspiration found in the form of fashion.
A scene where powerful (hot) vampire Eric Northman is getting his hair-highlighted is the perfect example of this (check it out here).  He may look ridiculous, but he doesn't let that affect him.
Or what about the time Eric was wearing… a dress? Check that one out here.

So… what else can True Blood teach us? Quite a bit actually!

1. Emphasize your best features
What is your best feature?  Is it your to-die-for bone structure?  Your amazing eyes?  Your Angelina Jolie lips?  Your J.Lo booty?  Your Tara Thornton arms?  Your "girls"?  Whatever it is… play it up!  Don't just be proud of it – own it.  Make it your trademark.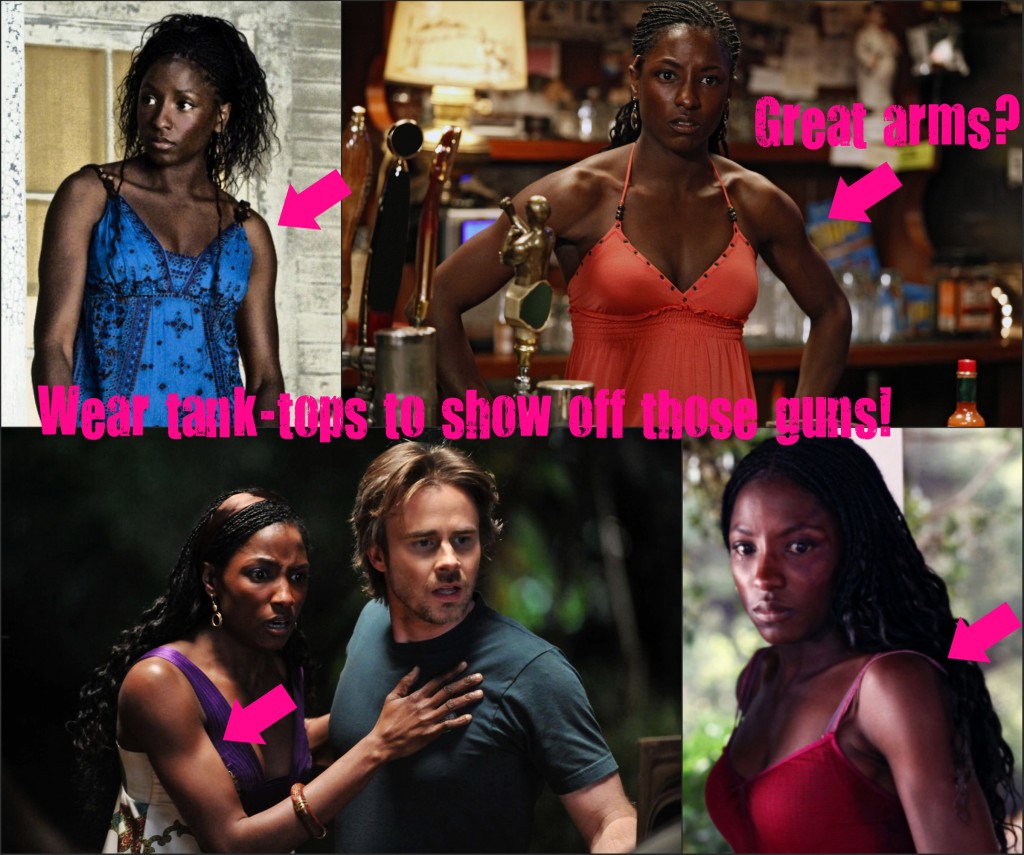 2. Yes, you can be sassy, sexy and sweet
The day Jessica Hamby became a vampire she was transformed from a young, innocent child to a sexy woman.  She simply exudes sensuality.  Yet there is something different about her.  She has an underlying sweetness and sassiness that sets her apart from the rest and it is evident in her style.  Below is a great example of how to capture this look.  The delicate black lace top and studded choker add some edginess to her sweet pigtails and pink lips (try Bobbi Brown's Guava Lipcolor or Tom Ford's Pink Dusk).   Just like Captain Jack Sparrow, she knows no look is complete without that black eye kohl!
3. Remember your essentials for that trip to the pool (and beach)!
How many of you dress up for a trip to the pool?  Yes?  No?  Do you opt for poolside glamour or do you perhaps go a bit too casual?  Let's face it, no woman wants to wear a full face of make-up and her best clothing to a pool.  She wants to keep things minimal and easy.  However, that doesn't mean that we should be complete slobs – after all, who knows who you might run into!    There are five essentials you need to remember to bring with you:
Sunscreen!
Shoes!
Sunglasses!
Swimsuit!
Something sparkly!
If you have those 5 things you'll feel and look great!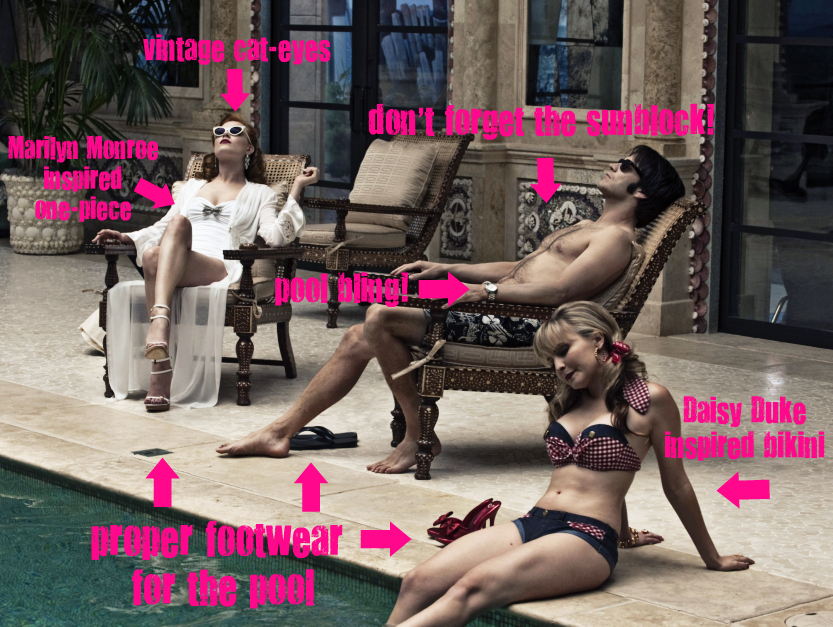 4. There is a time and place for sweats and tracksuits
How many of you would wear your sweats to work or for a night on the town?  Anyone?  Unless you happen to work at a gym, the answer is likely no one.  There is a definite time and place for sweats and tracksuits and, as Pam De Beaufort and Eric illustrate below, most have to do with physical activity.  In those instances comfort is key and the appropriate attire will make your life much easier.   That being said – don't forget to add some edginess or glamour by accessorizing!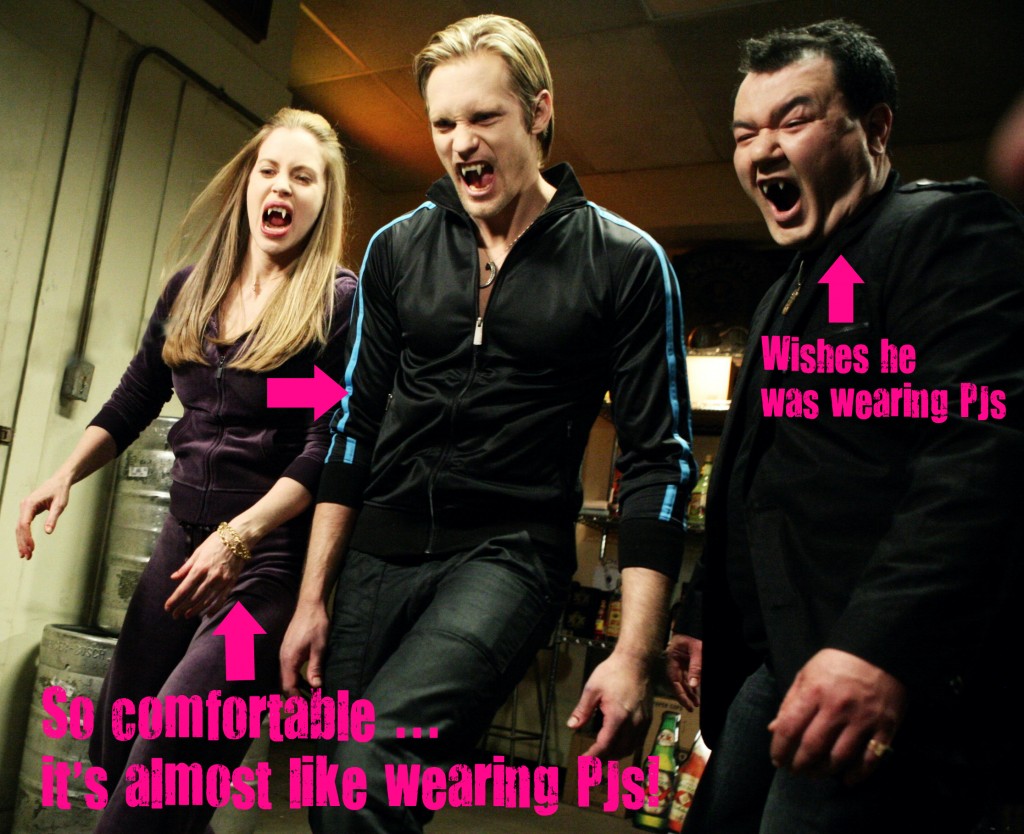 5. Speaking of accessories… attitude is everything
Your attitude is your most important accessory.  So what if you are physically beautiful, have an endless wardrobe, money to burn and can live forever.  If you don't have a positive attitude about yourself none of that matters.  Don't blend into the crowd. Find out who you are as a person and own it.  Use your accessories – your jewelry, hairstyle and make-up – to reflect that personal style.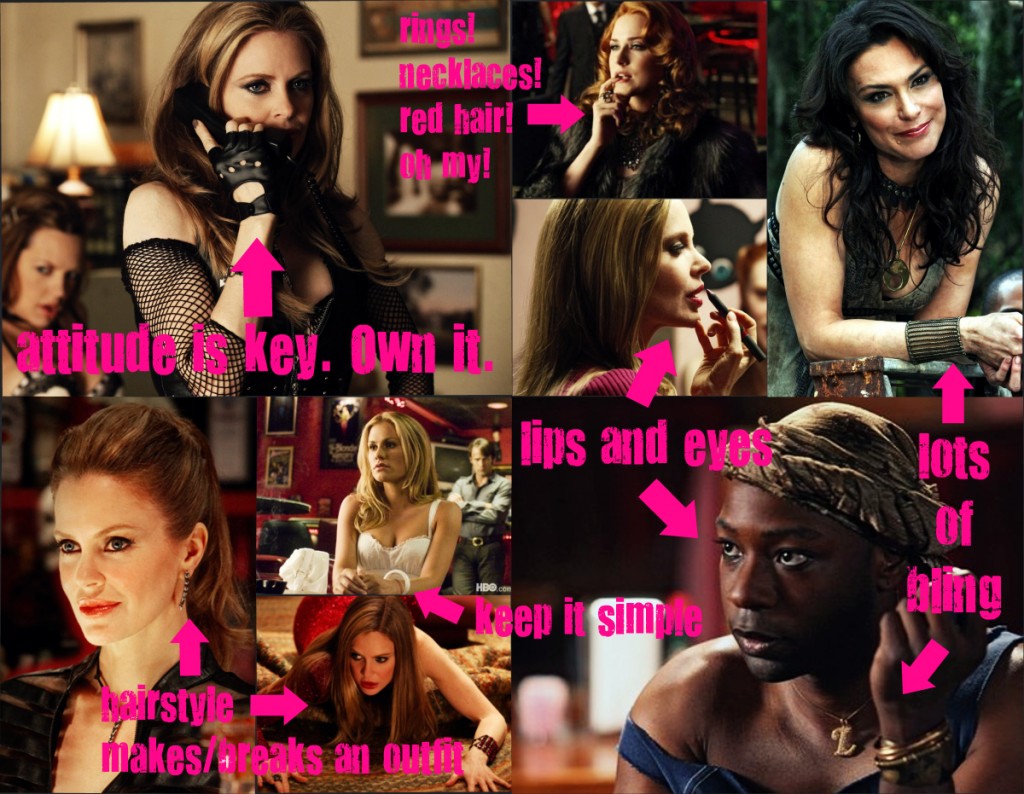 Conclusion
There is more to True Blood than meets the eye.  Behind all that drama and shirtlessness (see here and here and here) there are some valuable fashion lessons to be learned!
So, what do you think? Have you learned any fashion lessons from vampires? Werewolves? Witches? How about Fairies?

What surprising individual has taught you some lessons about style?
All images courtesy of Google Images and used for entertainment purposes only. True Blood and all its characters are the property of author Charlaine Harris and HBO.