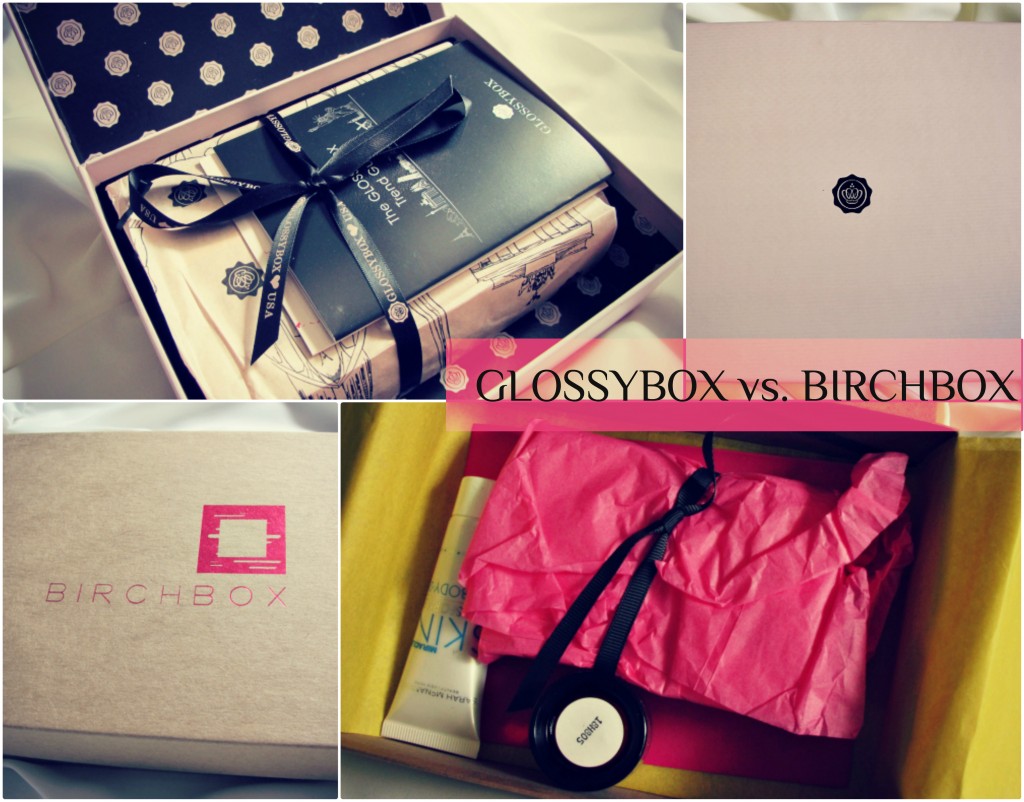 A few weeks ago the folks behind the GLOSSYBOX beauty subscription service contacted me and asked whether I would be interested in receiving their inaugural U.S. box. Since I am a big fan of BIRCHBOX and am absolutely in LOVE with the PopSugar Must Have Box (BEST. THING. EVER.), I jumped on the chance to check it out. I've been dying to review it for you, but instead of just covering the GLOSSYBOX I received, I decided to wait for the May BIRCHBOX to ship so that I could do a comparison between the two services.
THE BASICS: HOW DO THEY WORK?
BIRCHBOX: If you sign-up for the BIRCHBOX subscription service you'll receive a monthly selection of deluxe samples from both well-known and up-and-coming beauty brands.  Some samples are sent to everyone and others are chosen specifically for you based on your personal profile.  You can expect to receive a variety of  generously sized samples with enough product to allow you to figure out if they're right for you.
Cost: $10/month
Number of Products: I have averaged 5/month
Points: Earn points toward free boxes in a number of ways, including referral credits, surveys and full-size product purchases
Brands I have received to date: ZOYA Nail Polish (0.25 oz), Kerastaste (0.16 oz), Juice Beauty (0.5oz), AHAVA (0.51 oz), Annick Goutal EDT (0.06 oz), Tea Forte, Weleda (0.23 oz), Marula Oil, Yes to Blueberries, Atelier Cologne, Befine (0.5 oz), Kate Spade (0.05 oz) , blinc mascara, Redken, philosphy, NUXE (0.33 oz) and more.

GLOSSYBOX: GLOSSYBOX US went live on Friday, May 11th, but the company operates in 18 countries throughout the world making it the world's largest beauty subscription service.  From what I can tell, some samples are sent to everyone and others are chosen specifically for you based on your personal profile.  The samples come beautifully packaged in high-end gift boxes and are heftier than the samples found in BIRCHBOX (some are even full size).
Cost: $21/month
Number of Products: at least 5
Brands they have worked with in past: check out the list. It's kind of amazing.
Points: "GLOSSYDots", the brand's loyalty program, gives members 20 dots for each product review.  1,000 dots = a complimentary box.
THE PACKAGING
BIRCHBOX packaging is completely recyclable, from the box all the way to the tissue paper.  The outer box is generally bright pink, but May's packaging is black and pink instead due to the Gossip Girl theme.  Special boxes, like this one, usually have a sleeve covering the normal brown box.

In contrast, GLOSSYBOX packaging is much more luxe. The grey and pink outer box is more substantial than the BIRCHBOX counterpart and bears the GLOSSYBOX logo.  The main box is a lovely pale pink on the outside and black and pink on the inside.  The products themselves are wrapped with a black ribbon and printed tissue paper. What you can't see here is the shredded black paper that also protects the products within the tissue paper.

There is a definite difference in the size of each box which can be attributed to both the packaging itself and the larger products found in the GLOSSYBOX.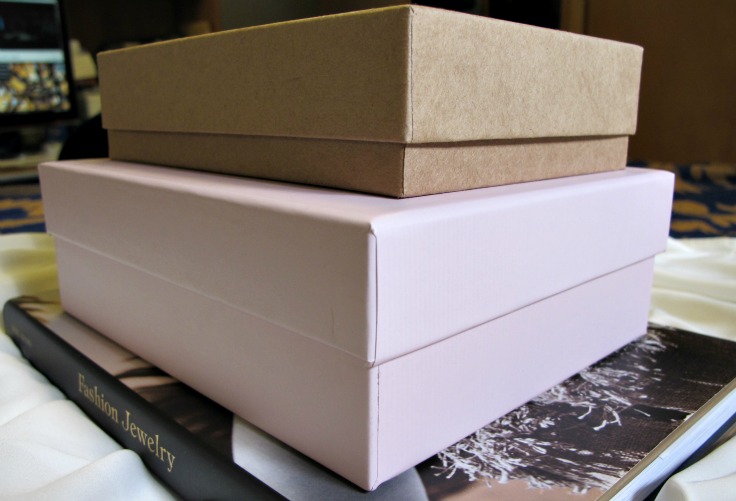 THE PRODUCTS
Now this is where the differences between the two boxes really becomes apparent.
The May 2012 Gossip Girl BIRCHBOX: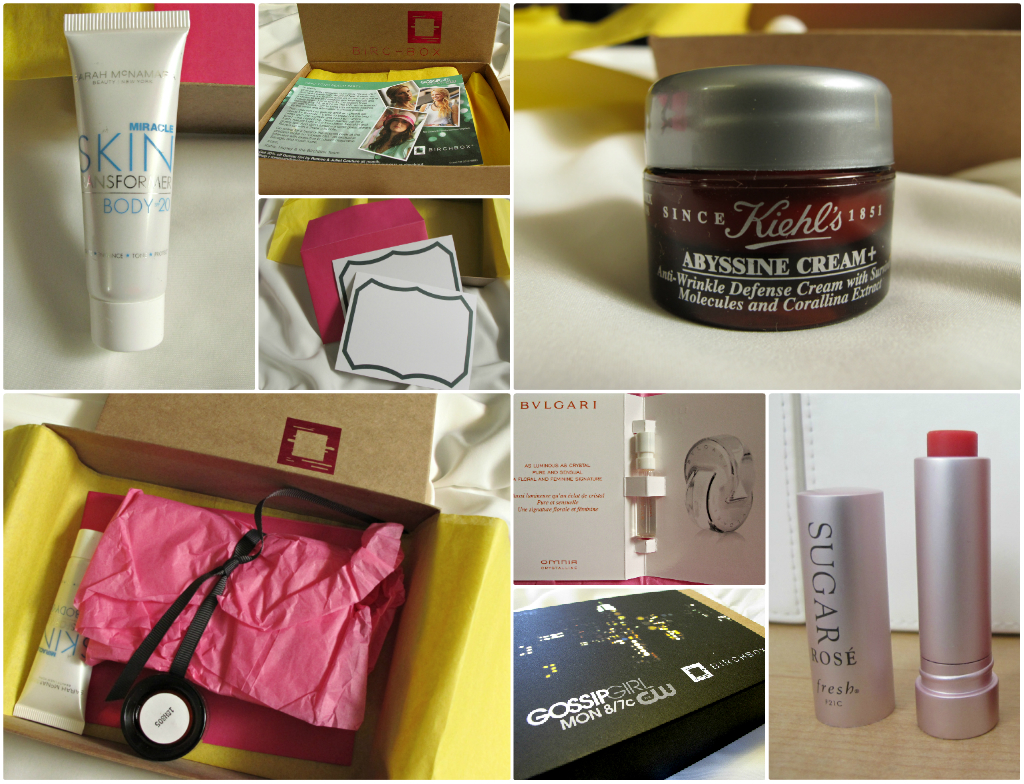 Products included (size/value):
Kiehl's Abyssine Cream+ : an anti-aging moisturizer (0.25 oz / $7.10)
Fresh Sugar Rosé Tinted Lip Treatment SPF 15: love this!  (0.08 oz / $12)
BVLGARI Omnia Crystalline EDT: not my kind of scent (0.05 oz /$2.40)
Sarah McNamara Miracle Skin Transformer in GLOW :  a color corrector for the body (0.05 oz /$5.03)
2 notecards: they could have left this out of the box. Really? ($2.40)
The May 2012 Inaugural U.S. GLOSSYBOX: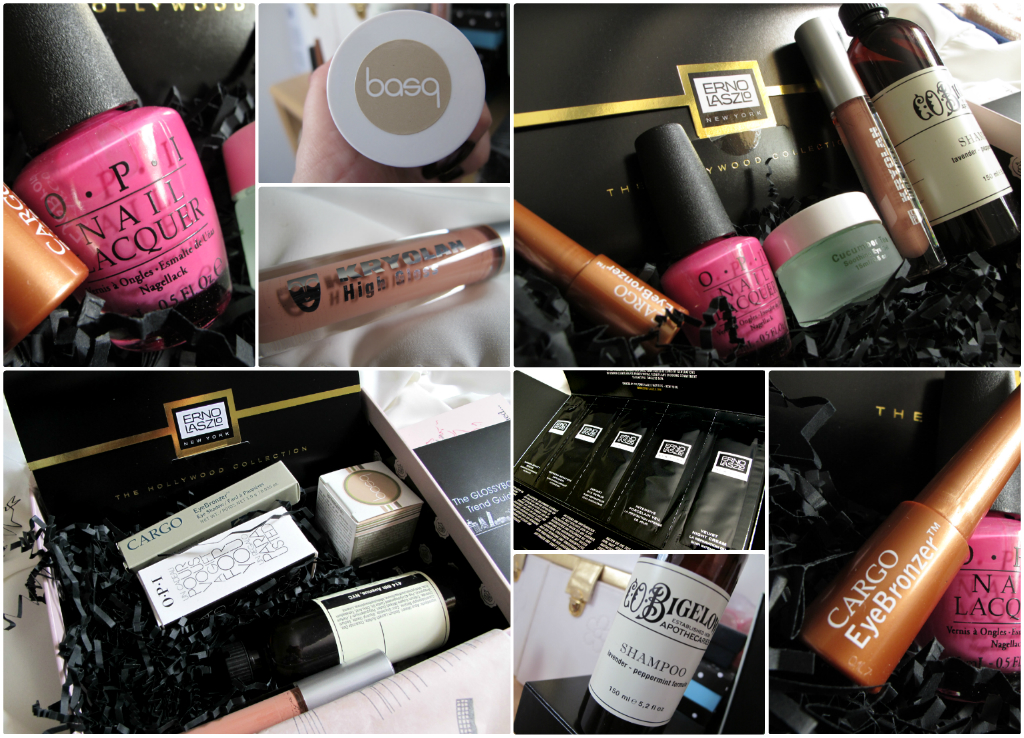 Products included (size/value):
basq cucumber tea eye gel (0.5 oz / $24)
C.O. Bigelow lavender + peppemint shampoo (5.2 oz / $ 12)
ERNO LASZLO Hollywood Collection samples
KRYOLAN High Gloss Brilliant Lip Shine in Toffee (4ml / $18.10)
O.P.I. Kiss Me on My Tulips Polish (0.5 oz / $8.50)
CARGO EyeBronzer: love, love, love this!  great gold color (0.035 oz / $22)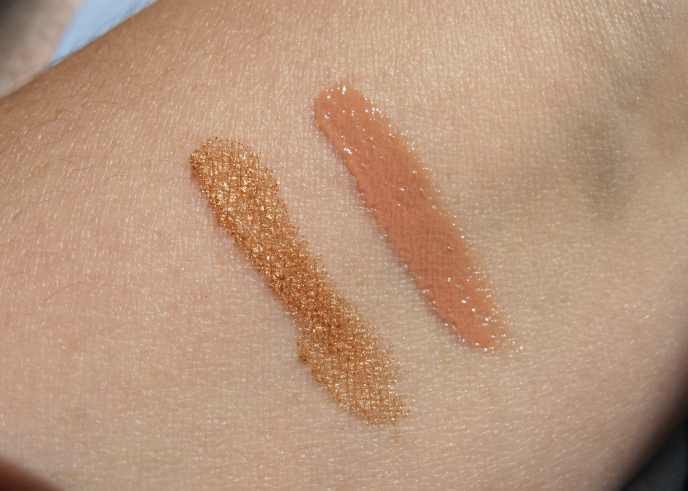 Left: CARGO EyeBronzer/Right: Kryolan Lip Gloss
Not counting the Erno Laszlo samples, the value of the GLOSSYBOX comes in at $84.  That is pretty amazing.
CONCLUSION
The thing about beauty subscription services like BIRCHBOX and GLOSSYBOX is that there are no guarantees.  You may love every item you receive one month, hate most of them the next, and fall right back in love the following month.
This time around, I wasn't impressed with my BIRCHBOX.  I love the Fresh Sugar Rosé Tinted Lip Treatment and am a huge fan of Kiehl's, but the rest of the items just didn't do it for me.  And the notecards?  No thanks. They can leave those out next time. That being said, I still love me some Birchbox. I have discovered plenty of products I love via the sub and the product reviews are an EASY way to get credit in the store that can be applied towards full size items.
The May 2012 GLOSSYBOX completely won me over.  The luxe presentation, full size products, selection and overall value just blew me away.  Even if the items had been typical travel sizes, the value would surpass the monthly cost.  At $21/month the GLOSSYBOX is pricier than BIRCHBOX, but, in my opinion, it is well worth it.
Is it indicative of other boxes you will receive from Glossybox? No. Again, future sample sizes will be travel size but, in my opinion, still well worth it.
THE MAY SCORE CARD:
MAY BIRCHBOX: C-
GLOSSYBOX: A
Have you tried either service before?  What do you love and/or hate about them?

Do you subscribe to any other beauty subscription services that you would recommend?
EDITOR NOTE: Although this GLOSSYBOX was provided for consideration this is not a sponsored post.