I want to formally introduce you all to Casee Marie. I believe Casee Marie first stumbled upon Beautifully Invisible way back in July when I published this blog post about 10 Women Who (in my opinion) Make Being Curvy Sexy. Since that post, Casee Marie has been a fixture on this blog, always leaving comments that are both insightful and thought-provoking. Her own personal blog , The Girl Who Stole the Eiffel Tower, is one of my favorites. Like myself, Casee Marie isn't a personal style blogger. Her content is on the editorial side, and she manages to weave her love of romance, glamorous locales, and simple elegance into her musings on fashion, film, art, music and more. On top of that, Casee Marie is also one of the co-author's of the fashion blog SHE (Style Through Her Eyes). Busy lady!
I was honored when Casee Marie agreed to be a contributor in my monthly guest blogger series (and thank her profusely for the praise she heaps onto this blog below – thanks, my dear, you make me blush!) Read on for her musings on the Art of Fashion Photography!
**********
My initial reaction to the invitation to do a guest post here on Beautifully Invisible was definitely shock.  Then came excitement; next was inspiration; and lastly, dreadful worry.  I'm not good enough!  I don't have anything interesting enough to say that could possibly entertain you readers after all the months of spectacular posts from the woman behind this anonymous blog.  To expect contentment, I knew, was ludicrous; but I'd do my best.  Considering that B combines both her love of photography and fashion on this blog I thought it would be appropriate for the foundation of my guest post to reflect both arts combined.  Thus, I'm here to talk about the glory that is fashion photography!
Where would we be without this practice, the seed of which was planted over 150 years ago and has evolved into perhaps the most fundamental tool in the fashion industry?  From Cecil Beaton and Richard Avedon to Steven Meisel and Annie Leibovitz the art of photography has been used to capture fashion – and the art of fashion has been used to expand the creative landscape of photography.  Clothes are amazing, but clothes being worn, clothes that move and have shape and definition, that reminds me of what fashion is, why it exists and the unlimited ways it can be employed.
I'd like to take this opportunity to showcase the work of some of my favorite fashion photographers and to evaluate the different ways they married the art of fashion to the art of photography.  I've seen many a photoshoot in my magazine-reading days, but only in the last year or two have I expanded my view to the depth of fashion photography; thus, you can imagine that my choice of photographers are well-known and my comments are no more than uneducated observations.  Still, I believe that the art of fashion photography has entirely to do with the viewer and the emotions that the art evokes.  So having properly warned you (and now that you've undoubtedly come to the realization that I'm a notorious chatterbox) let's get to the point of this post…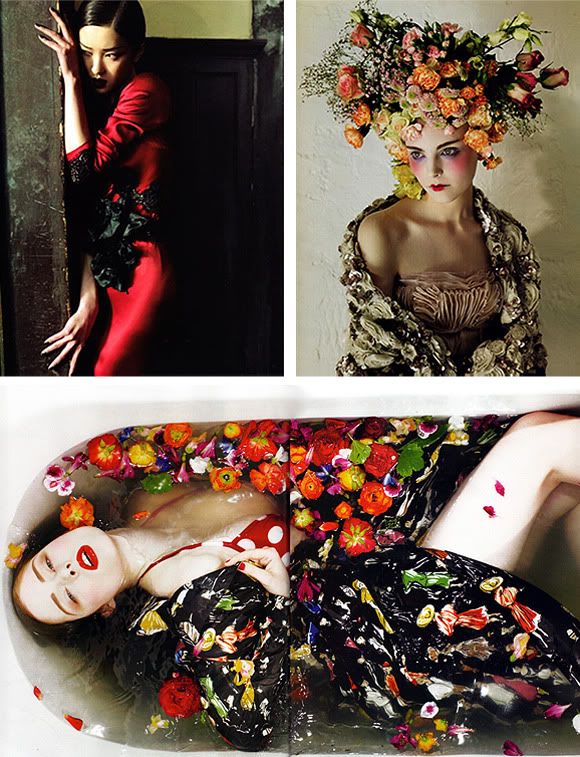 Sofia Sanchez and Mauro Mongiello
1. Du Juan for Numéro China (October, 2010).
2. Myf Shepherd for Numéro Korea (January, 2009).
3. Coco Rocha for Numéro (June/July 2008)
The thing I love about Sofia and Mauro's work is their use of external elements, such as nature and buildings. They create such richness by involving the settings as part of the story. In Du Juan's shoot for Numéro China (top left) she's constantly leaning on a wall or somehow connecting herself to the room she's in, and the result makes you stop and notice every element in the photograph. There's a hazy smoke machine and a gently blaring neon light in a few of the shots that make you feel like you've walked onto the set of a Wong Kar Wai film. On the other hand, Myf Shepherd and Coco Rocha's shoots are perfect examples of how they can make a minimalist set look opulent. The clothes are always occupied in some way, moving and being lived in. I think that adds even more substance to their shoots.
Carter Smith
1. Lily Cole for Vogue Nippon (March, 2006)
2. Olga Sherer for Elle (May, 2010)
3. Angela Lindvall for US Vogue (October, 1998)
Carter Smith's style seems to vary and often his celebrity shoots feel a little too mainstream for my taste, but his work with Olga Sherer for Elle (top right) introduced me to a different side of him.  The idea of shooting couture inside the Museum of Natural History is brilliant.  The gowns become part of the atmosphere and, combined with the different exhibits of the museum, create an idea of how different cultures are represented through both history and fashion. There's also a sense of colors complementing each other, much like his shoots with Lily Cole and Angela Lindvall which work with different elements and textures of nature. There's something of a melancholy haze over those that I really like.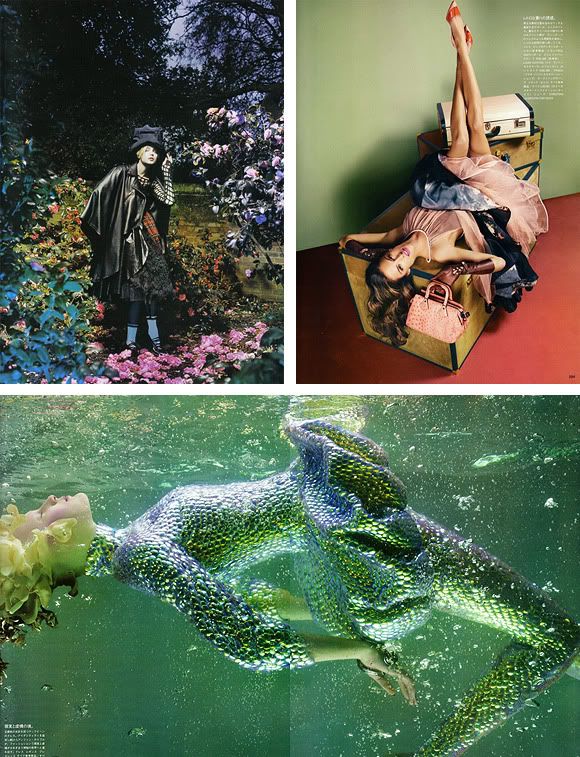 Sølve Sundsbø
1. Jessica Stam for Vogue Italia (November, 2008)
2. Alessandra Ambrosio for Vogue Nippon (October, 2010)
3. Alla Kostromichova for Vogue Nippon (May, 2010)
Sølve Sundsbø is such an artist. Everything he creates is so innovative and unique that you never really know what will come next. I've seen the simplest shoots from him and the most detailed, like his work with Alla Kostromichova in Vogue Nippon (bottom). The name of the editorial is "The Girl from Atlantis" and the entire thing was shot underwater with a wardrobe consisting entirely (I think) of Alexander McQueen. I love how he really seems to consider the clothes he's shooting and molds his photography around that. He can be traditional, modern, bizarre, sumptuous or understated. Looking through his work and seeing the differences really fascinates me.
Alexi Lubomirski
1. Liu Wen for Vogue China (November, 2009)
2. Abbey Lee Kershaw for Vogue Germany (August 2010)
3. Doutzen Kroes for Numéro Tokyo (May, 2010)
I like that Alexi Lubomirski's work is very comfortable; the photography doesn't outdo the fashion and the fashion doesn't outdo the photography. They seem to complement each other in a casual way, but they're never boring. His shoot with Liu Wen for Vogue China (top left) involves a lot of different city settings and a lot of heavy contrast which, combined together, I'm not usually a fan of (I think the shoots get too busy), but he works it all together with the fashion to make it look so natural. And to the opposite effect, he shot Doutzen Kroes (bottom) with little else involved, but still he made it look quite lavish.
Tim Walker
1. Karen Elson for Vogue UK (April 2008)
2. Stella Tennant for Vogue Italia (August, 2007)
3. Coco Rocha for Vogue UK (February, 2007)
Everyone knows him, everyone knows his work, but if you don't mind indulging my whimsy for a moment I really have to include Tim Walker. He's far and beyond my favorite fashion photographer. His editorials are such an experience, full of fairy tales and magic. His shoot with Stella Tennant (top right) is one of my favorites; each picture reminds me of a painting by Frank Bernard Dicksee or John William Waterhouse. To some extent the clothes become so intertwined with the nature that you almost lose sight of them, but it's also fascinating to see them being used in such a natural way. Every editorial pushes the model to be expressive and to get invested in this magical world, and in a way the viewer is also transported. He's somewhat the Tim Burton of the fashion photography world, wouldn't you say?
I hope you've all enjoyed this little escape into the art of fashion photography. As I'm still quite new to it and ever willing to find out more, I'd love to know your favorites. And if you've somehow found a new photographer or a new editorial in this little collection, I'll be quite pleased with myself! Have a lovely day, and thanks again to B for letting this guest post happen!
Image credits: Faking Fashion, the Fashion Spot
**********
Check out Casee Marie's personal blog here, and SHE here, or follow her tweets here.