Etsy Favorites:
Please note: these are not sponsored recommendations, but etsy shops that I personally have had wonderful experiences shopping with.

Click here to read more about Ritzy Misfit's unique wax-seal pendants. Each piece is a one-of-a-kind piece of art! 

Click here to read more about Laura Staley's beautiful custom work and the special Caribbean-inspired necklace she created for me.
My #1 Site for Fashion Steals: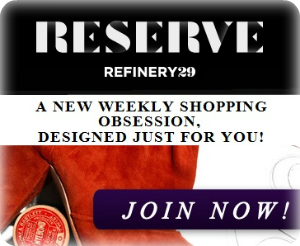 Think of Refinery29's RESERVE as the Groupon of Fashion.  The deals are generally 50% off or more and are unbelievable – well worth the daily emails! Don't believe me? Check this out.
 Sample Sale Favorites:
Learn more about my new faves Open Sky, MYHABIT, Prive, Clique to Know and Moda Operandi here!
More Love:
Great designer sale offers from Net-A-Porter's sister site:
Pre-owned, authentic luxury goods starting at prices up to 85% off estimated retail:
City-specific discounts on everything from spa treatments to restaurants to museum memberships to shopping.  Sign up for your city below:
Disclosure: Some of the links above are affiliate links for retailers that I personally support. Please note that if you click through an affiliate link when purchasing an item I may receive some compensation for your purchase. You are under no obligation to click through via one of the links  when purchasing, but, if you do, you will be supporting this site as well.  Happy Shopping!