I am a jewelry addict.
Gold.  Silver.  Spikes.  Studs.  The BOLDER the better.
It's no secret I gravitate towards statement jewelry.  That doesn't necessarily mean BIG pieces, but it does mean pieces that pack a punch.  Pieces like this.  And this.
Sometimes, however, a statement doesn't have to be loud to be bold.  It doesn't have to be all spikes and studs… it can be softer.  More elegant.
When I am not blogging I have a day job as a fundraiser, which means earrings cast from real rattlesnake jaws and spikes aren't always appropriate.  When meeting with certain donors my style has to be a bit more classic and less rock-n-roll, so how do I do that and still make a statement?
Diamonds!  Diamonds make perfect sense considering they are a girl's best friend, right?
I have a pair of diamond studs that have been my go-to for years but I have been itching for a new pair of earrings to spice things up a bit.  Now, thanks to Anjolee, I have  found them:
Aren't they absolutely stunning?   When Anjolee first reached out to me about reviewing one of their pieces I couldn't believe my luck… it was like the shopping gods had aligned to grant me my latest wish.  Although I loved everything I saw on their site, I kept going back to their hoop earrings because they were different.  Just about every female I know has a least one pair of diamond stud earrings, and although they are lovely, they aren't unexpected anymore.
Diamond hoops, however, are unexpected, and I love that!  After debating a few of the styles I finally settled on the "Must Have Diamond Hoop Earrings" and let me tell you – they are a must have indeed!  Seriously, look at this sparkle: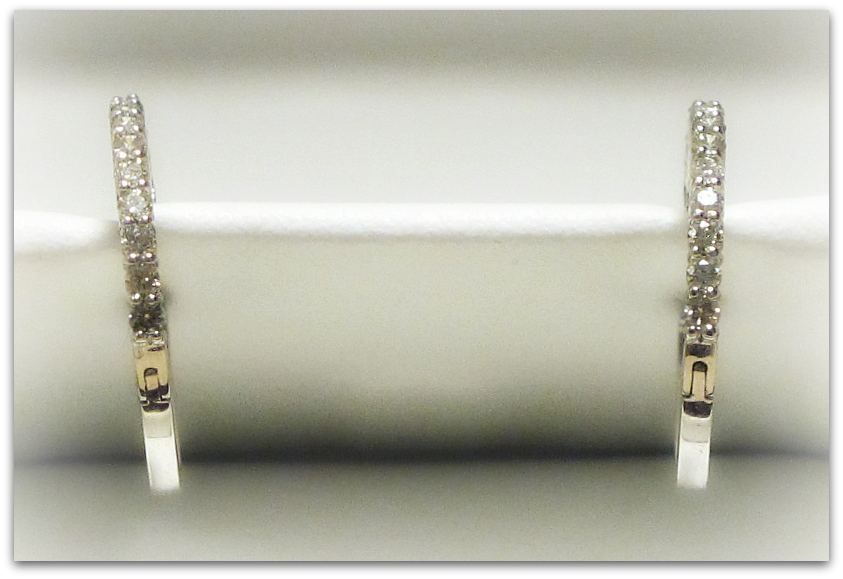 Gorgeous, no?
What's different about Anjolee is that they allow you to customize their jewelry, so you can match the bauble you select to your own aesthetic.  For me, that meant a pair of white gold hoop earrings with .49 carats of HI-I1 diamonds.  Beautifully crafted and absolutely exquisite in real life – my pictures really do not do them justice!  They are the perfect size for the office – about 0.7 inches – and striking enough to wear for a night out on the town.  I started wearing mine this past weekend and have been pleasantly surprised at the number of compliments I have received.  My favorite was from a little girl who kept staring at them while I was talking to her mother and then simply said "Sparklies!"
Sparklies, indeed.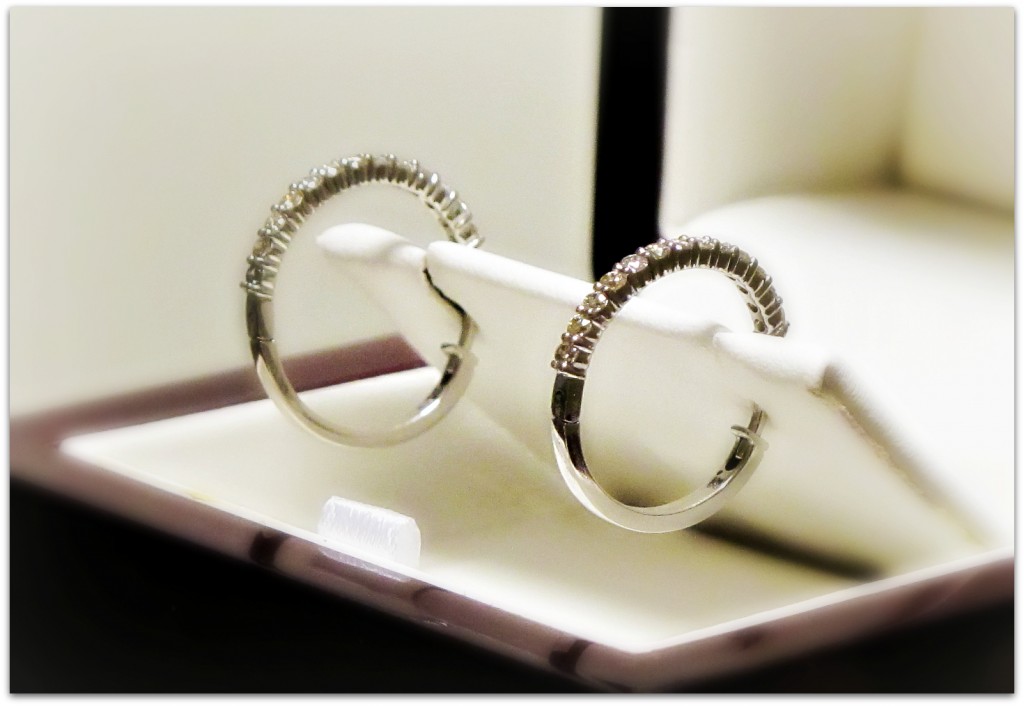 You want to know what the best part is?  I took them to an appraiser yesterday and they valued them significantly higher than what they retail for on Anjolee.  The lesson from this is: if you are interested in purchasing high quality, customizable diamond jewelry that won't break the bank, you should check out Anjolee.  The website might seem a bit overwhelming at first (at least, it was to me!), but it's worth the effort to investigate what they have to offer.  They stand by their product and guarantee their diamonds are genuine, authentic, and the quality stated on the site.  That's a guarantee that can be difficult to find online.  Perhaps most importantly: they are a socially responsible company that only sells conflict free diamonds!
I'm back at work today (yay! finally!) and wearing my hoops.  I can already tell they are going to be getting a lot of wear, especially as I gear up for the end-of-the-year craziness inherent in the life of a fundraiser… and now I can mix them with some of my favorite pieces…
Many thanks to Anjolee – and the shopping gods – for the gorgeous earrings.  I'll be wearing them often!
What about you, do you have any go-to jewelry pieces?  What are they?